(SCROLL DOWN FOR UPDATES)
BRACE YOURSELVES! BEHOLD, THE NEXT KOREAN HEARTTHROB AFTER LEE MIN HO & KIM HYUN JOONG!
FIRST NAME : MINHO
LAST NAME : CHOI
Birthplace: Incheon, South Korea.
Height: 181 cm (Rumored 184 cm)
Blood Type: B
Zodiac: Sagittarius
Position: Main Rapper, Sub Vocalist.
Other: Actor, model, promotional model, presenter.
Hobby/Interests: Rap, Soccer, Basketball, English, Mandarin.
Sibling(s): Older brother (Choi Minseok)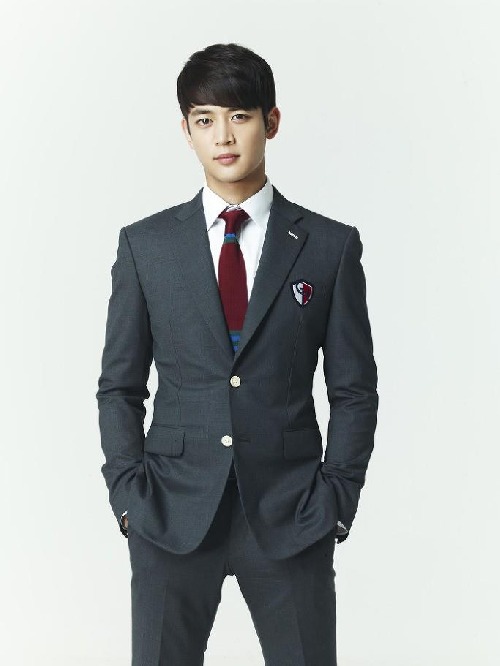 KIM HYUN JOONG'S JUNIOR COUNTERPART
Choi Minho
(
Hangul
:
최
민
호
;
Hanja
:
崔
珉
豪
; born December 9, 1991) is a
South Korean idol
singer
from the group SHINee
,
rapper
,
dancer
,
actor
,
model
,
lyricist
,
promotional model
,
MC
, and
radio host
. He is a member of
South Korean
boy group
SHINee
under the label of
SM Entertainment
, as the main rapper, sub-vocalist, and visual.
D
o you know that he is the ACE PLAYER of Korean Celebrities when it comes to Celebrity Sports Fest? He excels in all the games that he takes part in. Just like Kim Hyun Joong, he is also competitive, a strategist, and a sports buff.
Minho graduated from Konkuk University's affiliated high school on February 10, 2010. After taking the college admissions test the previous year, he was admitted in 2010 to Konkuk's part-time admittance for the arts and culture film major where he is currently attending.
His father,
Choi Yun-Gyeom
, is a well-known South Korean soccer coach. He has an older brother named Choi Minseok.
In March 2010, Minho was injured during a filming for Dream Team Season 2. He had to withdraw from his activities while fellow Shinee member Taemin replaced him on the show during his absence.
After his recovery, Minho finally came back in August 2010 to continue his activities and promotions of
Shinee
's second full length studio album, "
Lucifer
".
On May 23, 2011, he was named Honorary Ambassador for Youth 2011.
He then received a name plate at the Youth Week celebration held in the COEX auditorium.
Minho was discovered at the 2006 S.M. Casting System. In 2008, he was chosen as a member of the group Shinee, the 5-member boy group debuted on May 25, 2008 on SBS'sInkigayo.
On December 7, 2011, it was announced that Minho would be taking on a comedic acting role in SBS's new sitcom, "Salamander Guru and The Shadows", which would air in early 2012. Minho played the role of Min-hyuk, a genius hacker, alongside actors Im Won-hee and Oh Dal-soo. Salamander Guru and The Shadows was SBS's first sitcom in 5 years and revolved around two robbers who impersonate a guru. The sitcom aired in January 2012.
On April 26, 2012, Minho was confirmed to be the lead role, alongside f(x)'s Sulli and Lee Hyun-woo, for the Korean drama "To The Beautiful You", a Korean version of "Hana Kimi". The drama started broadcasting on August 15, 2012 on SBS.
Minho's character is Kang Tae-joon, a high jump gold medalist who gives up high jumping after being injured. In preparation for his role as Tae-joon, Minho received personal training from coach Kim Tae-young, former national high jump athlete and a member of the Korea Association of Athletics Federations, for a month and a half.
His personal record at the moment is 175 cm.
In 2009, for their 2nd mini-album Juliette, he co-wrote "Talk to You", "Juliette", "Hit Me", and "Romeo + Juliette". For their 3rd mini-album 2009, Year of Us, he along with fellow member Key, and lyricist JQ wrote the song "Get Down", which features fellow labelmateLuna of f(x).
In their 2nd studio album Lucifer released in July 2010, he wrote the raps to "Up & Down" (which was co-written by fellow memberJonghyun), "Obsession" (also written by Jonghyun), "Your Name" (written by fellow member Onew), and co-wrote the songs "WOWOWOW" with JQ and "Shout Out" with the fellow members and MISFIT. In the repackaged album Hello, he wrote the rap for the title track "Hello", and co-wrote the raps for "One" and "Get It".
He is also credited for creating additional raps to the songs "Better", "To Your Heart", and "Stranger" in their 1st Japanese studio album, The First released in December 2011.
For their 4th mini-album Sherlock released in March 2012, he wrote the raps to the songs "Alarm Clock" and "Honesty" (written byJonghyun).
He also wrote the rap for a cover that he did at London, called "Rocketeer". Performing it with f(x)'s Amber.
For their 3th full album "Chapter 2. Why So Serious? – The Misconceptions of Me", Minho wrote the raps to the songs "Shine" (Medusa I), "Music Box" (Orgel, "Excuse Me Miss" and "Can't Leave" (Sleepless Night).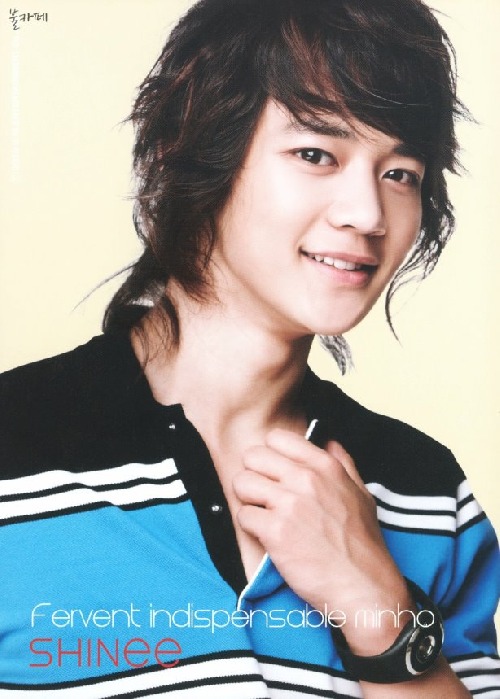 ____________________________________________________
MINHO'S APPEARANCES
____________________________________________________
PERFORMANCES
____________________________________________________
MIN HO'S MODELING GIGS
____________________________________________________
HIS ESCAPADES
_________

____________________________________________________

___________
MIN HO'S TV DRAMAS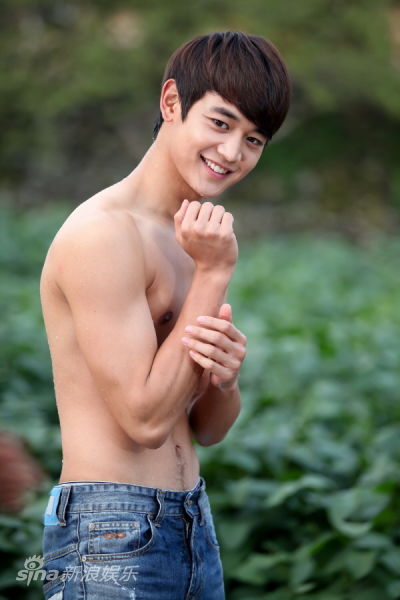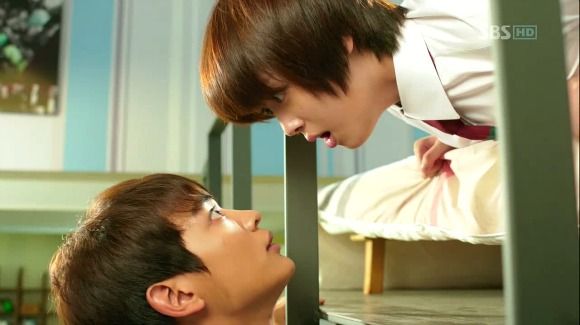 ___________________________________________________
___________________________________
(SCROLL DOWN PLEASE FOR UPDATES)
NEWS
The SBS Drama Awards were recently held on December 31st, summing up outstanding performances from actors and actresses of this year's SBS dramas.
Our very own Choi Minho was crowned an award winner at the ceremony, where he received the New Star Award for his leading role as Kang Taejoon in SBS's TO THE BEAUTIFUL YOU! Minho proceeded to give a speech graciously thanking those who have been with him throughout the process and making a heartfelt promise to continue to do his best.
The New Star Awards were given out to a total of ten budding actors and actresses of the year. f(x)'s Sulli and actor Lee Hyun Woo also received the award for their roles in TO THE BEAUTIFUL YOU.
Minho graced the stage once more during the awards to perform a special classical dance stage with SNSD's Yuri.
From a promising part in Pianist to the leading male role in a major drama, Minho's acting career has speedily progressed upwards. Congratulations to our talented Minho on his latest achievement!
_______________________________________________________
The drama showed lots of potential with its idol actors. Minho is definitely one of the jewels that "FYIFB" discovered.
"It's my first leading role in a drama. I'm starting to act, which I've wanted to do since I was little, so I worked hard to prepare. Rather than anticipating the evaluations, I went in with the determination to develop and mature. I still feel that I lack a lot so I want to leave a good image of Kang Taejun. I want to return again through a good project and role."
Due to the pain of losing his mother, Taejun hid his feelings and became a cold and blunt character. Minho talked about his differing personality compared to the chic and "cold city man" Taejun.
In reality, I'm the type to be as courteous as I can to females. Even I see Kang Taejun as a rough, ill-mannered, and cold character. I played a character whose personality contradicts mine and without realizing it, I slightly integrated it. But it was interesting and enjoyable to express a personality that's unlike mine. Just like how I played a high jump athlete in the drama, it's fun to play another character.
Kang Taejun isn't an average high school student but a national high jump representative whose athletic abilities had a great influence in the drama. Minho's exceptional athletic skills were known well through shows and we wonder if he felt burdened.
"I tried something called the Forsbury flop and it was tiring at first so I had a hard time. I was confident but it was harder than I thought so it was bothersome. Although I wasn't 100% satisfied, I was able to make it look like one an athlete would do which was a relief. I think I could have done it if I had a little more time. But all actors have limited time and the problem was how to prepare apply that into the jump."
A sweet and cute romance unfolded in the drama. Since the two know each other well personally, they said being immersed in the romance wasn't all that easy.
"We've known each other since we were young so I was worried. I was worried since we're pretty close and thought it might be awkward. We worked together one step at a time and we gradually adjusted well together. Since we're normally close, we'd ask each other "How would this emotion be?" and "Wouldn't it be good to express it this way?" which had a synergy effect. Wasn't it quite passionate? Since it was Sulli, I was able to express myself more naturally."
We asked Minho "Was the high jump or romance with your close dongsaeng Sulli harder?" As expected, he confessed that the high jump was more burdensome where he had to use his body a lot.
The high jump was a bit harder since I had to use my body. When we filmed all day, I became exhausted. I think using my body was more difficult than emotional acting. When I filmed emotion scenes with Sulli, it took about 2 hours. It took around 6 hours to film the high jump and get the picture we wanted.
How are the members' reactions? We're curious about their thoughts on the romance between the two people whom they know well.
"The SHINee members told me "I can't watch it." On days when there were skinship scenes, they'll joke around and say "I had fun watching yesterday." But still, they make sure to watch and also follow the lines. They even asked me to teach them how to high jump (laugh). Jonghyun hyung memorizes lines that even I forget about and recites them so I get surprised."
Minho felt a different kind of pleasure through "FYIFB" than on stage. He revealed his desire to show various sides of himself as an actor.
Well when I stand on stage, there's an immediate response from the people watching so there's pleasure and enjoyment that not everyone can feel. I don't get direct and immediate responses when I act compared to when I'm on stage. But when I worked on the drama and see the finished product on TV, I remember the hard times and feel pleased. It's a huge sense of accomplishment. It's now my first step into acting so I have to learn a lot as I go and I know there are aspects that I am poor at. It has its various charms and it's fun.
Minho displayed his high jumping skills through this project. What kind of image will be shown in his next project?
I haven't thought about it in detail yet but since I played a high school student this time, I want to play a new role that's fit for my age. As I was learning how to high jump, the director told me "You'll earn a talent that nobody else has. It'll be good to be confident when you film," which were nice words. In the future, I want to learn various things through many experiences and work on projects that will help me. I want to be acknowledged as a good actor.
___________________________________________
SHINee's Choi Minho is the model of his school, Konkuk University
Member of idol group SHINee, Choi Minho who is currently studying at Konkuk University as a third-year film major is seen at the new brochure of the said university. The main purpose of this to promote Konkuk University and let other people know more about the school.
In the promotional picture, Minho is seen smiling brightly while wearing a casual attire. As Minho is featured in the brochure, the university is garnering more attention from the students.
_____________________________________________
MINHO IS BACK IN HIS NEXT SERIES AS A YOUNG DOCTOR
IN "MEDICAL TOP TEAM"
Minho Choi will be joining the cast of Medical Top Team as the youngest doctor, together with Kwon Sang Woo

,

Jung Ryeo Won

,

Joo Ji Hoon

and Oh Yeon Seo. The story for Minho's character will showcase his personality and his love story.
The production company revealed that Minho will play the role of Kim Sung Woo, who is the youngest member of the top medical team for 3 years. Kim Sung Woo is well-liked by many because of his manners and humorous attitude. He will also be a guardian angel-like presence for his fellow doctor mate Choi Ah Jin who is played by actress Oh Yeon Seo.
Minho said of his participation in 'Medical Top Team', "I am greatly honoured to be working alongside such a talented director, screen writer, and cast members. Through this production, I will do my very best to learn as much as possible from them and show my mature side."
Medical Top Team is about the medical works of an elite medical group of doctors
as they try to balance the ardours of reality while saving lives and internal power struggles within the hospital.
The drama is set to air on MBC in October 2013.
___________________________________
SHINEE CONCERT IN THE PHILIPPINES
ON SEPTEMBER 07, 2013
@The BIG DOME
(Araneta Coliseum)
Ticket Prices:
SVIP (Standing) - P12,720
VIP Diamond (Seated) - P12,720
VIP Platinum - P11,130
Platinum - P10,070
Gold - P5,830
VIP Silver - P4,770
Silver - P3,180
General Admission - P1,275
Go online to Ticketnet.com.ph
Call (63-2) 911-5555 for Reservations
____________________________________________
____________________________________________________
____________________________________________________