Shown on Arirang Program in Korea with VJ Isak of Pops in Seoul and Luis Manzano (Filipino Actor/Host/VJ on Myx Philippines). It is the 60th Anniversary of The Philippines-Korea Friendship Festival held at the CCP, Roxas Blvd., Manila, The Philippines.
Shinee performed "Juliet" and "Ring Ding Dong"
60th Anniversary of The Philippines-Korea Friendship Festival
MUSIC VIDEOS
First Group Song " JULIET"
"HELLO"
"AMIGO"
REPLAY
STAND BY ME
(THEME SONG OF "BOYS OVER FLOWERS")
LOVE LIKE OXYGEN DANCE VERSION
"SHERLOCK"
"WHY SO SERIOUS?"
AYO
FOREVER OR NEVER
JOJO
OBSESSION
REAL
WOWOWOW
ONE FOR ME
BRING ME TO LIFE
TIE A YELLOW RIBBON 'ROUND THE OLD OAK TREE
"DREAM GIRL"
Minho with Taemin & other SM Town Male Group Representatives: U-Know, DongHae, Eun Hyuk "SPECTRUM"
Great Performance!
Watch SHINee's Perfect Rehearsal Footage
AWESOME!
Performace at Miss Korea 2013
SHINee performs in Paris, France (SM Town)
WORLD DATE WITH 2 OF SHINee MEMBERS with our very own Philippine Actress
Jessie Mendiola



Jessy interviewing the Shinee Members
In the Philippine Evening News "Bandila" (with English Translation)
Jessy returned to S. Korea for a magazine shoot. The first time she went there was to be the Philippine representative for World Date with Shinee. She gained popularity even in Korea after that.
(Sigh! Minho & Taemin were not there.)
__________________________________________
__________________________________________
SHINee, Super Junior in Manila in September, October
By Jonathan M. Hicap
(Clockwise from top left) SHINee, Super Junior, Dal Shabet and EXO (Photos by www.newsen.com and EXO's Facebook page)
The Philippines will be awash with K-pop fever as Korean groups will be coming to Manila to hold concerts in September and October.
Super Junior, SHINee, EXO K and Dal Shabet will be storming Manila in the coming months.
"Super Show 5," Super Junior's world tour, is confirmed to be held in the country in October, Happee Sy-Go of PULP Live Productions told Bulletin Entertainment.
The concert was originally set to be held in August but was rescheduled.
Super Junior's last concert in the Philippines was in February 2011.
On the other hand, Dal Shabet, EXO K and SHINee will come together for the "K-pop Republic" concert that will be held on Sept. 7 at Araneta Coliseum.
"2 months na definitely Kpop at its finest: September & October," tweeted Sy-Go.
This will be the first for Dal Shabet to visit the country and second time for EXO K and SHINee.
SHINee, composed of Onew, Jonghyun, Minho, Taemin and Key, was the first K-pop group to perform in the Philippines in 2009. Taemin was unable to join the group as he was sick at the time.
The boy band graced the Philippines-Korea Friendship Festival held on Nov. 27, 2009 at the Cultural Center of the Philippines (CCP).
They visited the country a year after the group debuted in the K-pop scene in 2008. Korean rap duo Mighty Mouth also performed at the event.
SHINee opened the door for other K-pop acts to visit and perform in the Philippines.
This will also be EXO K's second performance in the Philippines. EXO K was in the country last January and performed at the Dream K-pop Fantasy Concert, which also featured Korean artists Girls' Generation, Infinite, U-Kiss, Tahiti and Tasty.
Girl group Dal Shabet, composed of GaEun, Subin, Jiyul, Ah Young and Serri, debuted in 2011.
__________________________________________________
__________________________________________________
PRESS CONFERENCE WITH SHINEE, DAL SHABE, AND EXO
DAL SHABE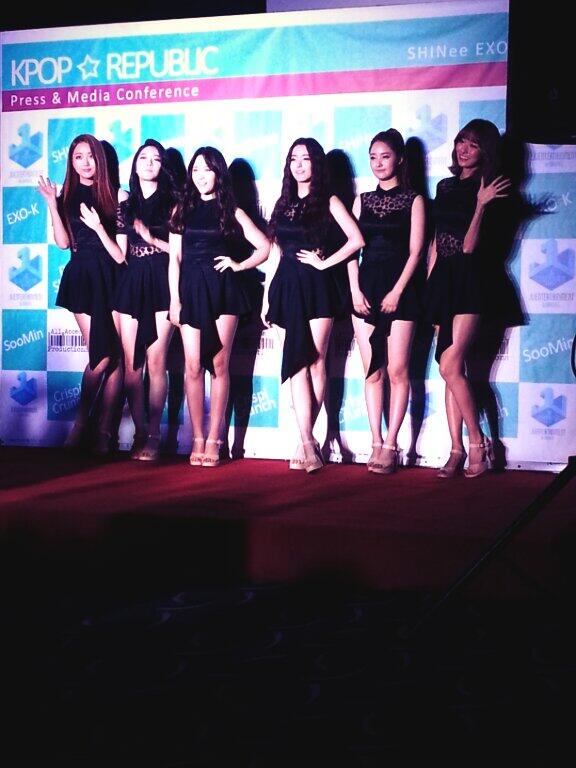 Host: It's your first time in the Philippines, how do you find it so far?
Ji Yul: This is our 2nd visit to the Philippines. We were in Cebu to take pictures. All of our members were so inspired because Philippines was so wonderful- nice weather, kind people and delicious food, etc.
Ga Eun: Please let me go there (to Cebu). I like Cebu's earth nature, so I want to go.
Host: You guys are really good in English!
Ji Yul: A little bit! Thank you for inviting us. Salamat!
Host: The Philippines is known for tourists spots. If given a longer chance to stay here, which tourist spots would you like to visit first?
Ji Yul: I have two Filipino friends. They told me you have to go to Farmers' Market, Cubao-
Host: -Cubao is really near here actually!
Ji Yul: Yeah? They said if you go to Farmers'Market, you can feel the Philippines. Is that right? My friend is wrong? Sorry. His name is Ken. Ken, are you here? (laughs)
Host: Have you been to Boracay or Palawan? How was it?
Ga Eun: I love Boracay!
Host: Okay, thank you! From Dal Shabet's songs, which one is your favorite and why?
Ji Yul: I like Hit U because in the music video I was shooting a gun. That was really hard.
Host: Was that a real gun?
Ji Yul: Yeah.
Host: Wow!
Ji Yul: It was really hard. Sound was so big (loud). I couldn't hear for two days.
Host: Did you have to go for training to be able to shoot?
Ji Yul: Yes.
Subin: I like Supa Dupa Diva, from the first album. ( referring to their favorite Dal Shabet song)
Serri: I also like Hit U
Woo Hee: Mr. Bang Bang
Ga Eun: To Be or Not to Be
Host: What special preparations did you have to go through to make 'Be Ambitious'?
Ji Yul: Maybe, our performance. Our dance is very special. Our skirt is like this (shows the audience) It was hard the first time, so during dancing and singing we would be like "Oh god!" Dancing was really hard.
Host: The routine was really hard. It looks like it, but you guys performed it so well. We're super excited to watch you on stage tonight.
Ji Yul: Now? We can do it now! It's so easy. (demonstrates)
Host: Being idols, do you have artists that you look up to or consider your idols?
Subin: I like Beyonce so much.
Ah Young: Dal Shabet? Sorry. (laughs)
Ji Yul: I like the Spice Girls
Serri: Britney Spears
Woo Hee: I love Rihanna
Ga Eun: I love… Dal Shabet too.
Host: Thank you so much! Last but not the least, would you like to tell any of your Philippine Darlings anything before you go?
Ji Yul: Thank you for inviting us, and thank you for loving us, Dal shabet. I love the Philippines. I don't want to go back (t/n: She wants to stay here.) All of us want to keep in touch on SNS. Send, SNS! Yes! (laughs) Is it right? Mahal kita? Thank you! Salamat po!


Once EXO-K came out
, muffled screams filled the room. There is no denying that this young group comprised of Chan Yeol, Su Ho, Se Hun, Kai, Kyung Soo and Baek Hyun have
caught the Filipinos' hearts
and fans are ready to 으르렁 with the boys.
Host: It's your 2nd time in the Philippines, how do you feel about it?
Host: If you had the chance to name your own fanclub, what would you name and it and why?
Host: For tonight's show, what is EXO K's promise to your adoring Filipino fans?
Chan Yeol: Mahal ko kayo!
Boy, did the Philippines miss SHINee! All eyes were set on the entrance awaiting for the boys' arrival. As each member came in, we all took in how mature looking Onew, Taemin, Jonghyun and Key have become donning black and white ensemble for their press conference. Four years of waiting was all worth it!
Host: This is your 2nd visit in the Philippines, how do you feel now that you're back on stage singing for your Filipino fans?
Key: We are super excited to be here and to meet the fans once again. We're excited for the concert, and we're going to have a great one tonight.
Host: Now that you're back in the Philippines, is there a specific place or Filipino food in the Philippines you've been longing to visit or try to eat?
Jonghyun: I haven't tried sinigang, but I would love to try it. I would love to go to Cebu and Boracay.
Host: What one word would you use to describe all your Filipino fans?
Taemin: Namu (tree). Because you guys have been waiting for so long and waiting for us patiently. Tree would be one word to describe the Filipino fans.
Host: Gaining all the success and receiving a lot of love from your fans all over the world, if you were to meet your old selves back in 2008, what would you advise him?
Onew: I would like to say, "Stay healthy and eat a lot of yummy food."
Host: I would like to direct this to Key. Your fashion sense has drastically evolved through the years and people have been commenting a lot about it. How would you describe your own fashion sense and style?
Host: Can I direct this to Mr. Onew? You're appearing on a sitcom these days. How do you feel about it?
Host: The next question is directed to Mr. Jonghyun. You've written the lyrics for the songs on SHINee's 3rd album. Can you explain a little bit about the lyrics?
FYI: MINHO CHOI was not present during the concert because he is still doing his new tv drama for 2013.
credits to pkci.
________________________________________________
________________________________________________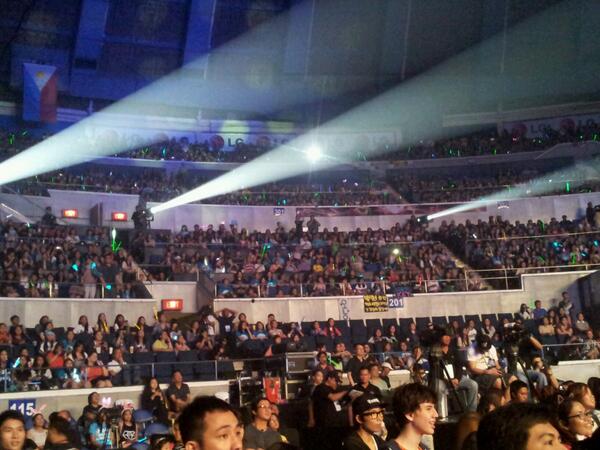 EXO
SHINEE
@Mr_SHINee
KEY: FIRST OF ALL, WE LOVE YOU GUYS. I KNOW
MINHO
IS NOT HERE TODAY BECAUSE HE'S BUSY BUT I PROMISE TO COMEBACK AS 5 HERE