(SCROLL DOWN TO CHECK FOR NEW DRAMA UPDATES)
The Philippines have so many TV series showing every day, for 5 days a week, that usually last for 3 months and may be extended depending on the viewership demand (therefore, it means, more episodes that will be added).
You may also check out Favorite Filipino TV Series Part 1 Posted on 2013. Buy the DVD available with perfect English or other language subtitles for your viewing pleasure.
___________________________________
___________________________________
These Philippine TV Series are a must-see. Highly recommended because of the quality of production and storyline, including the cast, the actors' acting skills (facial expressions, body language, intonation of voices, and the dialogues). These are all ABS CBN produced dramas and these what make ABS CBN TV series the best since the 1990s.

The Filipino actors/actresses portraying different characters in a TV Series or Movies are best known for acting just like in real life and the storylines are based on realities of life (unless it is only a fantasy or a dreamy kind of stories) -- this is what makes Fdramas more appealing than the other foreign dramas.
I was never a fan of our local TV series when I became a teenager. I came to like watching Annaliza only because of the "exciting" factors that it brought to my senses when handsome boys were fighting over this simple, yet interesting girl. That was in the 80's. When RPN 9, a renowed TV Network at that time, had bought rights for Mexican Telenovela,
Marimar
, I never failed to watch it eventhough the series had been dubbed in our language "Filipino". It was funny at first because while the characters' lips were moving, the dialogues were coming in delayed or sometimes ahead. With the way the characters were carrying their clothes, how great their looks were, how fashionable and sexy their outfits were, specifically if a pretty leading lady shows off a fierce personality and stands up for what she believes in--those things had opened up a great deal to a major tv network, and that would be my favorite TV Station, ABS-CBN.
I started liking local series again in the year 2000 when a really interesting story shines in our tv screens, it's Pangako Sa 'Yo. Just like how the characters in Marimar appeared on screen, that's what the characters in Pangako had emulated or made as an inspiration. The 80's stars who were not that popular before had turned out to become the fashion icons of the 21st century generation in Philippine television.
March 30, 2013 when I googled some of our local tv series, trying to feed my interest to know which of the TV series had reached the global arena. Pangako Sa 'Yo (The Promise), is the number 1 teleserye that had caught the global viewership's attention. It had become the best TV Series that I came to love to watch during that period next to Meteor Garden (a Taiwanese, feel good, tv series that also became a huge hit worldwide).
I have seen this article from a different blog and let me share them to you:
Filipino Telenovelas Very Popular in Asian Countries
New Delhi, India (November 26) - Whoever said that it is only Filipinos who watch Filipino telenovelas and who swoon over Filipino actors and actresses?
The Filipino telenovelas are very popular in Malaysia, Indonesia, and other Asian Countries. This is the revelation of the Malaysian and Indonesian media who are members of the Asean-India Media Exchange Program.
Indonesians and Malaysians also swoon over Jericho Rosales, Diether Ocampo, John Lloyd Cruz, Bea Alonzo, Christine Hermosa, Heart Evangelista, and other telenovela heroes and heroines. They watch Filipino novelas like Ikaw ang Lahat Sa Akin (You Are Everything To Me/ Only You), Gulong ng Palad, and many other Filipino telenovelas which are being shown in their own television channels.
The media from the Southeast Asian Countries said they love Filipino telenovelas more than the telenovelas from other countries because they have better stories and that the Filipino actors and actresses are more good-looking, more intelligent, and more talented than their counterparts.
Ms. Che Rohana Che Omar of Radio Television Malaysia said Malaysians, including herself, never miss any episode of their favorite Filipino telenovelas. The same is true with Miss Novita Christie of PT Radio Sonora in Indonesia. She said that some words in the Tagalog dialect are similar to Indonesian and Malaysian words. Besides, there is an interpretation of their language so they really are able to emote and empathize with the characters.
This revelation is a big boost to the Philippine telenovela producers. This will encourage them to produce more quality telenovelas which may be shown anywhere in the world and can compete with telenovelas of any country.
__________________________________
Pinoy soap operas a big hit from China to Africa
In the most recent past, the Filipino television audience have been hooked on drama series from countries in South America, particularly Mexico and Argentina, Asia, most specially Korea, Taiwan, and Japan.
Now, it's the Philippines' turn to show the world what this small country in the Pacific can offer.
While Filipinos around the world have been enjoying drama series from the Kapamilya network, little did many Filipinos in the archipelago know that ABS-CBN programs have become hits in other nations as well.
Recently, Pangako sa 'Yo was telecast on China's national television and, believe it or not, it rated second over all local and foreign programs airing in the country. Ten years after Filipinos became so attached to the Kristine Hermosa-Jericho Rosales tandem, the now classic teleserye still appealed to the Chinese audience and even hit the Top 30 list in the national weekly ranking, covering over 2,000 channels and capturing 1.3 billion viewers.
Prior to China, the love story of Angelo Buenavista and Yna Macaspac have mesmerized people in Malaysia, Singapore, Indonesia, Cambodia and even Africa. As Cambodian Nai Hiu Mei recounts, "The teleserye, broadcast here dubbed in Khmer, was so popular that many Cambodian babies have been named Angelo." The Times of Zambia writer Meluse Kapatamoyo wrote, "The series has become a topic of discussion among families, friends and even neighbors who daily ponder on how the show would end." René Lötter of One Africa Television said, "When is Pangako sa'Yo coming back?' I wish I could get a dollar each time I get that question. From teenager to grandma, from household organizers to tax consultant—it's gripped people across all genders."
The soap opera was shown (or currently showing) in their own TV Networks:
| Country | Alternate title/translation | TV network(s) | Airdate | Weekly schedule |
| --- | --- | --- | --- | --- |
| Uganda | Yna / The Promise / Pangako Sa 'Yo | Bukedde TV 1 | 2009 | Monday-Friday at 17:30 |
Through The Filipino Channel (TFC) in :
USA

Australia

Canada

Middle East

Guam

Europe
Pangako Sa 'Yo was a successful hit in Malaysia, Indonesia, Thailand, Cambodia, Namibia and Singapore. Its highest rating in Indonesia was 50.8%, beating the highest rating of Full House which was 50.5%.
It was the opening and hit TV series on Bukedde TV 1 in Kampala, Uganda and people would leave their work with one word on their lips "Yna", the lead character of the show.
It became a hit in China's national television and rated second over all local and foreign programs airing. The series even hit the Top 30 list in China's national weekly rankings, covering over 2,000 channels and capturing 1.3 billion viewers.
(The Promise)
Pangako Sa 'Yo (lit. My Promise to You) is a primetime soap opera series produced and broadcast by the Philippine media network ABS-CBN. It is dubbed the first "teleserye" on Philippine television. It starred Kristine Hermosa and Jericho Rosales. The soap, which ran from 2000 to 2002, spanned 476 episodes at 30 minutes each. The series re-aired on ABS-CBN at evening from 2006 to 2007 and on its affiliate TFC. A rerun was aired from March - August 2011 on ABS-CBN, in the late evening timeslot (1:30 A.M. - 3:30 A.M.) every day, with an alternate ending. The series re-aired again in the cable channel Jeepney TV last October 2012. The show posted an all time high rating of 64.9% and held the second highest rating posted by a TV series next to Esperanza.
It serves as one of the influential primetime dramas or Philippine soap operas ever made as it appealed to many audiences in foreign languages. It is popular to many Filipino viewers because of its love triangles between the main characters and the endless love between Amor and Eduardo, Yna and Angelo, and Claudia and Simon. The finale had a power outage as fans rushed home to watch the 1 hour finale and then re-aired at 10:00 PM - 11:15 PM in 2002 and also reaired the finale again on a Saturday at 8:00 PM - 9:01 PM (Philippine Time) which engulfed Filipino viewers as they waited for the powerful moments. It again abruptly was shown on ABS-CBN'S morning timeslot back in 2003-2004 and Pinoy Central internationally as well.
The story starts with the love story of Amor (Eula Valdez) and Eduardo (Tonton Gutierrez). Eduardo's mother, Benita, opposes the relationship since Amor was a maid and because she wanted Eduardo to marry Claudia (Jean Garcia) for political reasons. Eduardo's brother, Diego (Jestoni Alarcon), who has a crush on Amor, was asked by Benita to separate them. Eduardo, on seeing Diego trying to rape Amor, mistook it as them having a relationship, and is heartbroken and decides to marry Claudia. Amor, now pregnant, is forced to leave the Buenavista hacienda and went back to her mother at a trash dump. She vows to have her revenge on the Buenavista family when she finds out that Eduardo has married Claudia.
After giving birth to a girl named Maria Amor, Amor and her friend Lourdes survived by working in clubs. Amor caught the eye of a rich American named James Powers who brings her to the U.S.A. She leaves her child and mother named Chayong at the dump and sends money to them from time to time.
By accident, Yna and Eduardo meet and Yna dreams Benita showing her that her past lies in the Buenavista family. Intrigued, she gets a job working as a maid for the family in hopes of finding out about her past.
Yna and Angelo fall in love, much to the chagrin of Claudia. She looks down on maids and makes Yna's life a living hell.
Amor, coming back from the US as Amor Powers, has made a name for herself in the business world, all the while planning her revenge on the Buenavista family, whom she blamed for the sufferings she endured before as well as the assumed death of her child.

Ikaw ang Lahat sa Akin
Ikaw Ang Lahat Sa Akin (Only You) (Philippine Version)
(Starring: Sam Milby, Angel Locsin, & Diether Ocampo)
Aside from Pangako sa 'Yo (known internationally as The Promise), several other homegrown entertainment programs have been brought to a broader global audience through the pioneering efforts of ABS-CBN Global's International Sales and Distribution (ISD).
Carried by the biggest state television broadcaster in China, Ikaw ang Lahat sa Akin (a.k.a. Only You) aired on primetime, alongside Pangako sa 'Yo. Meanwhile, Sana Maulit Muli (a.k.a. Chances), Maging Sino Ka Man (a.k.a. More Than Love) and Gulong ng Palad (a.k.a. Stand for Love) are expected to be aired in the Republic soon.
Also earning international recognition worldwide is the Angel Locsin-Piolo Pascual starrer Lobo (a.k.a. She-Wolf: The Last Sentinel). In the recently concluded 2009 International Emmy Awards, She-Wolf was recognized for the stellar performance of Angel Locsin who received a nomination for Best Performance by an Actress. This recognition is second for the show, which won the Best Telenovela award at the 30th BANFF World Television Festival in Toronto, Canada last year. Currently, the program is enjoying wide viewership in Brunei and is anticipated to be released in other countries in Indo-China, Asia, Europe and Africa this year.
ABS-CBN shows are subtitled and dubbed in several languages, including English, Turkish, Khmer, Mandarin, and French.
One of the programs dubbed in French is Kay Tagal Kang Hinintay (a.k.a. La Longue Attente in French and The Long Wait in English) will cater to French-speaking viewers in Africa and Europe. According to International Sales and Distribution Head Reena Garingan, ABS-CBN programs are easily bought because they resonate to the African audience. "Our writers, directors and actors are able to capture real-life experiences on screen. Our stories show pain and suffering but in the end, give viewers a glimpse of hope. As we demonstrate that obstacles and fear may be overcome, we help mend the broken African spirit," Garingan said.

Kay Tagal Kang Hinintay
Kay Tagal Kitang Hinintay (The Long Wait / Forever)
(Starring: Lorna Tolentino, John Estrada, Bea Alonzo, John Lloyd Cruz)
For more than a decade, ISD has been the premier source of top quality programs from the Philippines, making ABS-CBN Global the first and the biggest Philippine content distributor in North America, Europe, Australia and Asia-Pacific and the leading Asian distributor in Africa.
Through ISD, Kapamilya shows have become so popular among non-Filipinos that ABS-CBN is now regarded as a market mover and thought leader in the field of broadcasting in Africa. In fact, Garingan recently attended a content and distribution forum to speak in front of leading journalists and broadcasters in Africa and discuss the social and ethical responsibilities of media professionals.
Indeed, ABS-CBN has made its mark in the global market. Through the efforts of ABS-CBN Global's International Sales and Distribution group, homegrown Pinoy entertainment has been given a chance to shine on the global stage.
DAHIL MAY ISANG IKAW (Destined Hearts)
Starring: Jericho Rosales & Kristine Hermosa)
DAHIL MAY ISANG IKAW (Destined Hearts)
____________________________________
SANA'Y WALA NANG WAKAS (TIMELESS)
(Starring: Jericho Rosales, Kristine Hermosa, Diether Ocampo, & Angelika dela Cruz)
SANA'Y WALA NANG WAKAS (TIMELESS) PART 1
(Filipino dialogue with Malaysian sub )
SANA'Y WALA NANG WAKAS (TIMELESS)
(Filipino dialogue with Malaysian sub & Eng sub)
SANA'Y WALA NANG WAKAS (TIMELESS)
(Filipino dialogue with Malaysian sub & Eng sub)
NOTE: There is a Malay sub because this episode of SANA'Y WALA NANG WAKAS (TIMELESS) was shown also in Malaysia and received higher ratings like Pangako Sa Yo. In the above episode, just by the glimpse of this episode, you will surely be needing lots and lots of tissue paper. OMG! It really hurts! I need tissue paper, please! Tissue Roll!
(If you would like to check the Top Filipino actors' achievements, visit Top Asian Matinee Idols posted on 2014 & Famous Philippine Artists posted on 2013)
For other TV Series Trailer, check them out on Famous Philippine TV Series posted on 2013.
When it comes to Philippine drama series that cross borders

, ABS-CBN Corporation

has proven that it is the premier provider in Asia. Out of the 30,000 hours of various content it has sold worldwide since 2000, ABS-CBN International Distribution has sold approximately

40% of these to eleven Asian countries, enabling non-Filipino, Asian viewers to enjoy top-calibre Filipino programs on their own television screens.
Among these, Malaysia is the top buyer of ABS-CBN dramas with more than 3,000 hours of content sold to Malaysian TV networks Astro Bella and TV3 since 2000.

"Magkaribal," "Prinsesa ng Banyera,""Dahil May Isang Ikaw," "Impostor," "Imortal," "Budoy,"and "Iisa Pa Lamang

" were some of the titles sold to Astro Bella, Malaysia's first in-house pay TV channel for telenovelas. These account for the 850 hours of content bought from ABS-CBN by this TV channel owned by the Malaysian satellite provider Astro. "

Dahil May Isang Ikaw

" is Astro Bella's highest-rating Filipino drama, registering an amazing 67% audience share.
TV3, Malaysia's first commercial television station, meanwhile, has bought 95 hours of content from ABS-CBN through Malaysia's leading integrated media investment group, Media Prima.
One of the shows it has acquired is"

Mara Clara,"

which proved to be a big hit during its run in TV3 after it successfully gained an average of 1.5 million viewers. The Malaysian network is set to air "My Girl" in January 2013 and this early on, is expressing a strong interest to acquire "My Binondo Girl" and "Be Careful with My Heart."
Cambodians are likewise shaping up to be avid viewers of ABS-CBN dramas. ABS-CBN has sold 28 canned shows to Cambodian TV channels capped by the recent landmark deal made with Cambodian Television Network (CTN) to localize the hit primetime series "

Pangako Sa 'Yo"

by 2013.
Aside from Malaysia and Cambodia, other Asian territories where ABS-CBN titles have been sold for a non-Filipino audience are Brunei, Myanmar, China, Indonesia, Hong Kong, Singapore, Vietnam, Korea and Taiwan.
A business unit of ABS-CBN, International Distribution has been recognized in the global arena as a reliable foreign content provider and has been a premier source of high quality Filipino programming in over
_______________________________________________
ABS-CBN's
Lobo
will be the first Philippine TV series to air in Thailand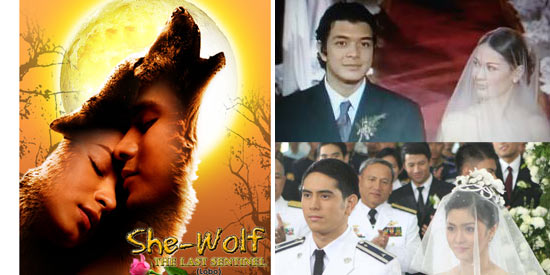 PRESS STATEMENT FROM ABS-CBN:


"The Philippines' most successfully distributed canned TV series worldwide, Pangako sa'Yo (The Promise), will soon be localized in Cambodia after Cambodian Television Network (CTN) bought its format from ABS-CBN.
"Pangako sa'Yo, produced by ABS-CBN in 2000, is one of the network's top-raters of all time, headlined by premiere Filipino actors Jericho Rosales and Kristine Hermosa as Angelo (Rosales) and Yna (Hermosa). The main characters will soon have their Cambodian counterparts as CTN targets to start production by the first quarter of 2013.
"The adaptation of Pangako sa'Yo in Cambodia marks a milestone in Philippine broadcasting history, particularly for ABS-CBN that is known as the Philippine leader in producing world-class TV drama series. ABS-CBN now joins the ranks of the world's most competitive content suppliers with this format buy.
"The landmark deal between ABS-CBN and CTN was made possible by ABS-CBN's International Distribution Division, which to date has sold over 30,000 hours of content, making it available to over 50 territories worldwide. ABS-CBN's canned programs have successfully penetrated territories in Asia, Europe, and Africa. Its most recent addition is Thailand where one of its top-rating drama series, Lobo (She Wolf: the Last Sentinel) will soon debut as the first Philippine TV program to air on Thai television.
"ABS-CBN International Distribution head Leng Raymundo said Philippine TV series, particularly ABS-CBN's drama series, have been widely received and distinctively known for their cast's international appeal, series length that adapts well to programmers' needs, and content with a universal appeal that people can relate to.
"The global viewers recognize and demand for ABS-CBN programs as they remain true to local cultural sensitivities. It has a definite global appeal, heart warming relatable stories that have high production values, and good-looking actors that cross borders," Raymundo said.
"ABS-CBN programs, mostly in drama formats, have been dubbed in English, Khmer, Mandarin, Bahasa Melayu, Vietnamese, Turkish, Russian, and French. They have also been subtitled in Bahasa Melayu and Romanian.
"Tayong Dalawa (The Two of Us) also made history as the first Filipino program in Singapore's telenovela belt while Sana'y Wala ng Wakas (Timeless), which is also topbilled by Rosales and Hermosa, was so well received by viewers in Malaysia that it even rated higher than hit U.S. series Smallville.
"Among French-speaking territories, ABS-CBN's Magkaribal (Rivals) dubbed in French is steadily gaining viewers.
"ABS-CBN International Distribution was also the first to distribute content in Myanmar, when My Girl premiered in 2011.
"Raymundo said the content ABS-CBN shows appeals to viewers from different parts of the world as more and more dealers express interest and acquire the network's various canned programs.
"She added that the success of these international runs have turned some of the Filipino actors and actresses into celebrities in other countries. Jericho Rosales and Kristine Hermosa now have foreign fans from different countries after their series Pangako sa'Yo was distributed in over 20 territories since 2002. The show was aired on China's national television and rated second in overall local and foreign programs airing in the country.
"Rosales recounted during one of his trips to Ghana how he was overwhelmingly received by his African fans. He was caught off guard and was so surprised that they would want to have their photos taken with him and would even call him by his character name. He was widely recognized in the territory that he didn't get to leave his hotel room for security purposes.
"With its growing recognition in the global media distribution landscape, ABS-CBN International Distribution further expands its line-up of high-caliber programs and movies and offers them to more territories in the world."
courtesy of : Pep.ph
posted on October 15, 2012
________________________________________________
ABS CBN PRODUCED TV SERIES RECEIVED INTERNATIONAL RECOGNITION
The range of popularity of Philippine drama in the early 2000s had spun overseas, becoming popular throughout Southeast Asia, Africa and North America, particularly in Malaysia,Singapore, Indonesia and Cambodia. These dramas are often dubbed into local languages, and sometimes has English and other foreign subtitles displayed when imported into those markets.
ABS-CBN has since started the exportation of their dramas, most likely classical dramas as they often have a universal message. Pangako Sa'yo ("My Promise to You") is one of the most successful Philippine dramas abroad. Prior to China, the story mesmerized people in Malaysia, Singapore, Indonesia, Cambodia and Africa. ABS-CBN also introduced a website called ABS-CBN International Sales,[2] for easy access to their shows. Other ABS-CBN shows like Sana Maulit Muli (Taiwan), Lobo (dubbed as She-Wolf: The Last Sentinel), Tayong Dalawa, Dahil May Isang Ikaw, Kahit Isang Saglit, Katorse, Mara Clara (remake), Magkaribal and Walang Hanggan were also exported.
Success
Today, Philippine drama has gained international recognition from international award-giving bodies, cementing the reputation of the Philippines as a prime drama producer. Most of these nominated dramas were from ABS-CBN. It started with Lobo, winning the Best Telenovela category in the 30th BANFF World Television Festival. Several dramas were also nominated in the International Emmy for the telenovela category, including ABS-CBN's Dahil May Isang Ikaw, Kahit Isang Saglit and GMA's Magdusa Ka. Magkaribal of ABS-CBN was recently nominated in the 2011 New York Festivals TV and Film Awards. Another show, Eva Fonda managed to win awards from the Seoul International Drama Awards where also the lead actress Cristine Reyes managed to get a nomination as Best Leading Actress and a special award for the show.
___________________________________
'Huwag Ka Lang Mawawala' sold for airing in 3 countries
MANILA - "Huwag Ka Lang Mawawala," the 2013 drama series starring Judy Ann Santos, is set to air in three international territories, producer ABS-CBN announced Friday.
The Primetime Bida series, which concluded its local run last August 23, was among the ABS-CBN programs showcased at the recent Asian Television Forum in
Marina Bay Sands, Singapore
.
Titled "Against All Odds" for its international audience, the soap has been
sold for airing in Malaysia, Cambodia, and Vietnam
.
Starring Santos as battered wife Anessa Panaligan, "Huwag Ka Lang Mawawala" was billed as an advocacy series for women's rights, as it centered on the character's journey from being a submissive partner to a powerful woman bent on revenge and reclaiming her son.
It also starred KC Concepcion, Sam Milby, Tirso Cruz III, Coney Reyes, John Estrada, Joseph Marco, Empress Schuck, and Mylene Dizon.
The series was under the direction of Malu Sevilla, Jerry Sineneng, and Tots Mariscal.
"Huwag Ka Lang Mawawala" ended its three-month run with its highest-ever rating of 32.5% across the country, according to Kantar Media, as measured using a panel size of 2,609 urban and rural homes.
"We are very glad to end 2013 with strong international sales of our drama content," ABS-CBN Head International Distribution Leng Raymundo said in a statement.
More shows going int'l
She said that apart from "Huwag Ka Lang Mawawala," two other ABS-CBN series --
"Got to Believe" and "Be Careful With My Heart" -- attracted markets at the December trade show in Singapore.
"These three dramas represent the continuous evolution of our storytelling and improved production values that are being appreciated abroad particularly in Asia and Africa," she said.
The ongoing "Got to Believe," which will air its final episode on March 7, has received numerous inquiries, with negotiations in the works, according to Raymundo.
Likewise still ongoing, "Be Careful With My Heart" has already started airing on TV3 in Malaysia, where it regularly becomes a trending topic on micro-blogging site Twitter, as in the Philippines.
The international airing of "Huwag Ka Lang Mawawala" follows several other successes of Kapamilya programs overseas.
ABS-CBN, through its International Distribution Division, has already sold over 30,000 hours of content to over 50 territories worldwide. These include "Pangako Sa'Yo," the 2000 series starring Jericho Rosales and Kristine Hermosa, which is credited as one of the most successful Philippine shows to air internationally.
Other recent Kapamilya shows that have been packaged for the international market include "Ina, Kapatid, Anak" ("Her Mother's Daughter"), "Walang Hanggan" ("My Eternal"), "Apoy sa Dagat" ("Raging Love"), "Princess and I," "Kahit Puso'y Masugatan" ("Hearts on Fire"), "Kung Ako'y Iiwan Mo" ("Without You"), and "My Binondo Girl" ("Jade").
ABS-CBNnews.com is the news website of ABS-CBN Corp.
___________________________________
___________________________________
THESE RECOMMENDED TV SERIES ARE ALL FROM ABS-CBN NETWORK (CHANNEL 2)
MARIA MERCEDES
(Starring: Jessy Mendiola, Jake Cuenca, Jason Abalos, Vina Morales, Ariel Rivera, Vivian Velez, Nikki Gil)
Genre: Romance, Drama, Revenge
_________________________________
GOT TO BELIEVE
(Starring: Daniel Padilla, Kathryn Bernardo, Carmina Villaroel, Ian Veneracion, Manilyn Reynes, Benjie Paras)
Genre: Romance, Comedy, Family, College
_____________________________
GALEMA, ANG ANAK NI ZUMA
(Galema, child of Zuma)
(Starring : Andi Eigenmann, Matteo Guidicelli, Sheryl Cruz, Sunshine Cruz)
Genre: Fantasy, Mystery, Suspense, Revenge
____________________
____________________
2014
THE LEGAL WIFE
(Starring: Jericho Rosales, Angel Locsin, Maja Salvador, JC De Vera)
an ABS CBN Primetime Drama Series
Supporting Cast:
Christopher de Leon, Rio Locsin, Mark Gil, Joem Bascon, Thou Reyes, Ahron Villena, Vandolph Quizon, Frenchie Dy, Dionne Monsanto
Genre: Drama, Family, Infidelity
Full Trailer
Beautiful, beautiful TV Series.
This has been portrayed well by the actors and the story is quite what could be happening in real life between legal couples. The series has gotten the highest ratings on TV during this period.
_______________________________________
_______________________________________
MIRA BELLA
(Starring: Julia Barretto, Sam Concepcion, Enrique Gil)
Supporting Cast : Pokwang, John Lapus, Mika dela Cruz, Mylene Dizon, Gloria Diaz, Arlene Muhlach, Nikki Bagaporo, James Blanco
Genre: Fantasy, Drama, Romance
Another Teen, Family TV Series with fusion of Fantasy-Romance that rose in ratings.
At first, there was speculations that this is not going to go anywhere (due to the viewers' doubt toward the lead actress, Julia Barretto). But it has proven its detractors wrong. The story appeared to be interesting, the story concept, the fantasy, and the young actors have given justice to the series.
It has also gotten its share of high ratings during the primetime showing at 6 PM.
Julia Barretto has already appeared in some TV series when he was younger so acting in front of the camera is not new to her. So those detractors might not be aware of her appearances and acting previously that was why they were doubting her potential.
___________________________________________
___________________________________________
IKAW LAMANG
(Starring: Kim Chiu, Coco Martin, Jake Cuenca, Julia Montes)
Co-starring : John Estrada, Angel Aquino, Tirso Cruz III, etc.
Airing : March 10, 2014
Genre : Period Drama, Romance
This is a TV series masterpiece, I must say. The story progressed from the 1940's up to modern day era when family generations had died and lived again.
My Take:
When I first saw the teaser of this drama, what came to mind was like a period setting from two different worlds -- one from the 1940's & the other is from the 21st century. Because when they showed the teaser where Coco Martin went up the second floor, he saw Kim Chiu there playing the piano, dressed in 40ish, while Coco was wearing a farmer's outfit which is commonly worn in the farm at the present time.
I thought that it was like "Somewhere In Time" of Christopher Reeve. If that was so, then it is something to look forward to. But to my disappointment, it is a drama set in the 40s-60's. Which means that I will be expecting a heavy drama, love story of the past. Though Filipino writers are so good at creating interesting drama plots but I am not too keen of watching too dramatic stories but maybe, just maybe the writers would deliver a much interesting love story for the lead characters.
What if the story could be like this : There was an affluent family who lived in the 1940s in a mansion and they owned a "hacienda" . Then during the present time, a handsome young farmer working in the same hacienda heard a piano being played in the background. He followed where the music is coming from until he enters the old, abandoned mansion and went up the second floor. Suddenly, he saw a very beautiful half Filipino, half Chinese mestiza playing the piano. The pretty girl felt that there is someone staring at her, when she turned her head, she saw the handsome young man.
The story is a combination of Romance, Mystery, Family, Suspense, and Revenge. Now that would be so interesting to watch!
Let's just see what happens in the entire story when it begins to Pilot on March 10. They say that the story will happen from the 1940's up to the present time. Others are guessing that there could be a Time Travel appeal. I am guessing it could be like Forever Young of Mel Gibson!
_____________________________
This was set during the 1940's - 60's - 70's - 80's up to the 21st Century. The story progresses in different eras and focused on the lives of the people in Negros, a province in the Philippines where the wealthy barons own large sugarcane plantations.
As I was watching the story during its first weeks of airing, I was so impressed by the child actors' performances and became so interested in knowing how fortunate some of the Filipinos lives were, while others worked and treated an outcast during the past eras in Negros. All the actors had portrayed such important roles and were able to justify their roles so well that the viewers got carried away by the story.
____________________________
This is now my take on the story.
When it began showing from the first few weeks, it was so impressive! The story started its concept in the 40's or 60's where the whole point of conflicts started with the grandparents and parents of our lead characters. It was shot in Negros Occidental, a place where the baron and baroness flourished and sugarcane was the major crop industry in the province.
The story ran until the present time with the birth of the new generation, of grandchildren, whose intention was to revenge on what they exclusively own, and on what they are fighting for.
Imagine how the story went and the hardships and sacrifices that the poor family had experienced under the control of a person who had suffered in paranoia.
It was momentous. Never a cliche. I like it when Kim Chiu portrayed characters from different generations and she was able to pull it off. I am a fan of her acting abilities. She can do drama and comedy. She was able to make the second part of the story very interesting to watch due to her comedic antics where she was so good at.
__________________________________________
__________________________________________
DYESEBEL
(A Goddess : Half Human, Half Fish)
(Starring: Anne Curtis, Sam Milby and Gerald Anderson)
Airing : March 17, 2014
Genre : Fantasy, Romance
Dyesebel (pronounced as Jez-ze-bel) is a popular mermaid character in the Philippines. The comic book character was originally conceived by the Filipino comic book illustrator, Mars Ravelo and drawn by Elpidio Torres. Dyesebel is a prominent character in Philippine cinema andtelevision. It was first serialized in Pilipino Komiks in 1952-53, and was later adapted into the big screen that same year. The movie topbilled Jaime de La Rosa as Fredo and Edna Luna as Dyesebel. The movie produced under Manuel Vistan Productions, Inc. and released thru Premiere Productions, was directed by the great Gerardo 'Gerry' De Leon.
Dyesebel first appeared in the pages of Pilipino Komiks in the 50s then in Kampeon Komiks (Champion Comics) from 1975.
Dyesebel is unique among the merfolk for she is the only mermaid born of human parents from the surface world. A mermaid from birth, she is shunned by the superstitious due to her physical form.
The story of Dyesebel begins when an amnesiac mermaid-turned-human named Lucia fell in love with a human. They got married and had a beautiful baby, but instead of a human baby she delivered a mermaid. The child is called "Dyesebel" . Although surprised by their daughter's strange form, Lucia and her husband Tino promise to love their child no matter what. But in no time at all, their neighbors discovered the couple's secret. When the community is hit with a series of catastrophes, the town believes that the anomaly is caused by Dyesebel; an accusation that leads to Tino's death. After her father is killed by an angry, superstitious mob, Dyesebel is taken to the ocean by her mother where she is sent into exile since her chances for survival are greater there than on land. Unknown to Lucia is that in the heart of the sea, Dyesebel's adventures and misfortunes will begin. It is within the confines of the waters that Dyesebel will lead a new life-a journey that would take her to the depths of the sea, as well as to chaos of the city.
One day the young girl-mermaid got lost in the ocean and found by Banak who adopts her and takes her to their kingdom where she is welcomed into their community. Years later, a jealous mermaid named Dyangga makes Dyesebel's life miserable among the denizens of the sea which leads Dyesebel to try returning to the surface world. She meets a kind, handsome young man named Fredo who falls in love with her and protects her, but then she is kidnapped by Fredo's jealous former girlfriend's (Betty) new boyfriend and displayed at the circus. She is subsequently rescued by Fredo and is brought back to the ocean where she is again told that although Fredo doesn't want to see Dyesebel go, he'd rather let her go than see her hurt by evil men on the surface world. Dyesebel discovers that she can also be a human being by visiting Amafura to get a secret necklace which makes her human; but a price must be made, for her to sacrifice her true possession, in order to gain something special. This time around, Dyesebel returns with a magic conchshell that transforms her into a full human form and returns to Fredo where they marry.
NOTE: From the time Dyesebel started in 1953 up to 1978, the plot have had some similarities with the Disney Adventure The Little Mermaid. But in 1990 until 2008, some changes were made for Dyesebel in order to deliver a different plot to the viewers.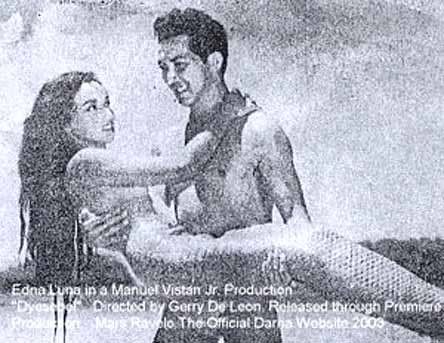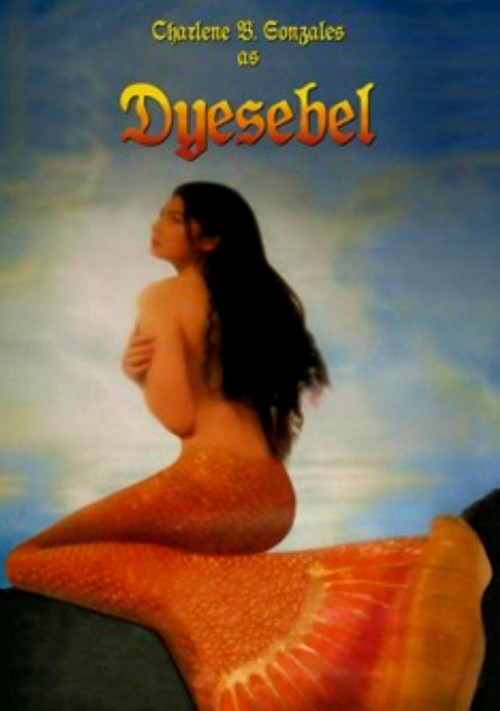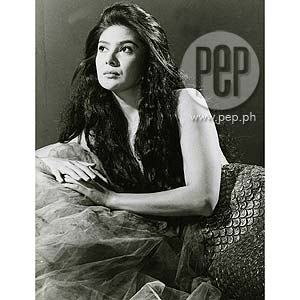 In the movies, Dyesebel was portrayed by Filipino actresses, Edna Luna, Vilma Santos, Alma Moreno, Alice Dixon, and Charlene Gonzales. In television, she was personified by the actress Ara Mina in a cameo appearance in Mars Ravelo's Darna (2005 TV Series) and portrayed by Marian Rivera in Mar's Ravelo's Dyesebel, year 2008. Vilma Santos and Marian Rivera are only the two actresses who played two of Mars Ravelo's komiks characters respectively, namely Darna and Dyesebel.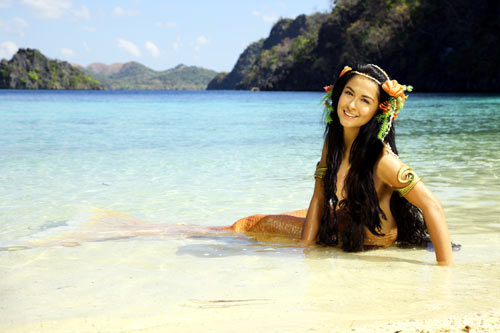 THE NEWEST "DYESEBEL"
2014
My Take:
Anne Curtis had already portrayed a mermaid before in her previous fantasy series called "DYOSA (Goddess)" as an immortal being who is the goddess of air (as a bird), sea (as a mermaid), and land (as half human-half horse).
We will be expecting newer plot and newer, more admirable special effects for this Dyesebel Fantasy Series or what we call Fantaserye.

__________________________________

Anne Curtis and Sam Milby were so good at swimming like real fish in the water.


A MERMAN SOLDIER
THE MERFOLK KING
DJANGGA
___________________________________________
___________________________________________
DARNA
(Starring: ?? under ABS CBN Network)
The story of Darna begins with a village girl named Narda. In a provincial town called Barrio Masambong, there were two orphans named Narda and Ding who lived with their grandmother, Lola Asay in a tiny hut. Narda love's to sing and her younger brother, Ding, plays the harmonica very well. Sometimes Narda and Ding go from house to house and sings for the money to help their grandmother to support their daily needs. While playing a game of "Hide and Seek" one night, Narda saw a shooting star in the night sky.
The celestial object crashed in a wooded area and when she came upon it saw a gleaming white stone (revealed to be from the planet Marte, and containing the mystical essence of the Andranika inhabitants of same) with a strange name inscribed upon it. Impressed by its beauty, she picked it up and decided to keep it. But when her playmates started looking for her, she immediately hid the white stone in her mouth to prevent her playmates from taking it away from her.
The white stone came alive and went down her throat into her stomach. She began to experience psychic flashes that flooded her mind with alien images of worlds far away which caused her to fall unconscious. She was found by her guardian, her grandmother, who took her home and put her to bed.
When Narda woke up, she was back at home with her grandmother and her brother, Ding. They asked her what happened and she related her bizarre experience. When her grandmother asked her what the inscription was on the white stone she swallowed, Narda said... "DARNA!!!"
Her grandmother and brother were both startled by a flash of light and smoke that filled the room and finding that were Narda once stood, there now was a tall, beautiful warrior woman. She explained to them that she was "Darna of the Planet Marte" and that she was sent to Earth to face the forces of darkness and hatred that afflicted the world. Narda was channeling the alien woman. Luckily Darna meant no harm and by saying Narda, she was able to change back.
From then on, Darna became a constant protector of the innocent and helpless from a variety of threats and villains, the greatest superhuman champion of the Philippines, and has remained so to this day.
(Past & Present Actresses Portrayed as Darna)
Ms.Rosa Del Rosario, the first Darna in 1951-1952
Ms. Liza Moreno, 1963 (Peoples Production, Inc.) - No Pictures
Ms. Eva Montes, 1964 (Movie by Premier Productions)
Ms.Gina Pareno, 1969 (Movie by Vera Perez Productions)
Ms Vilma Santos, 1973-1974-1980 (Movies by Sine Pilipino & Tagalog Ilang Ilang Productions)
Ms. Lorna Tolentino, 1977 (TV Series, KBS 9 or RPN 9)
Ms. Rio Locsin, 1979 (Movie, MBM Productions)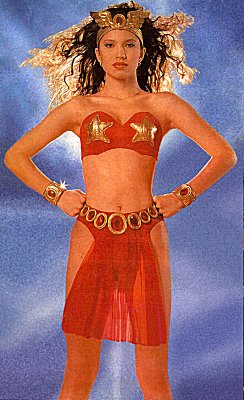 Nanette Medved, 1991 (Movie, Viva Films)
Anjanette Abayari, 1994 (Movie, Viva Films)
Angel Locsin, 2005 (TV Series)
Marian Rivera, 2009 (TV Series)
Angel Locsin, who portrayed Darna in 2005 for a TV Series will be gaining her strength once again on the big screen under Star Cinema (ABS CBN Network affiliate) this 2014. Locsin has been the first choice by Netizens to portray as Darna again because of her acting and her fight moves, not forgetting her beautiful Filipina face and perfect sexy figure. The movie might be shown for the Metro Manila Film Festival in December.
The next DARNA on Prime Time
?
We are expecting that the project will be given to Jessy Mendiola!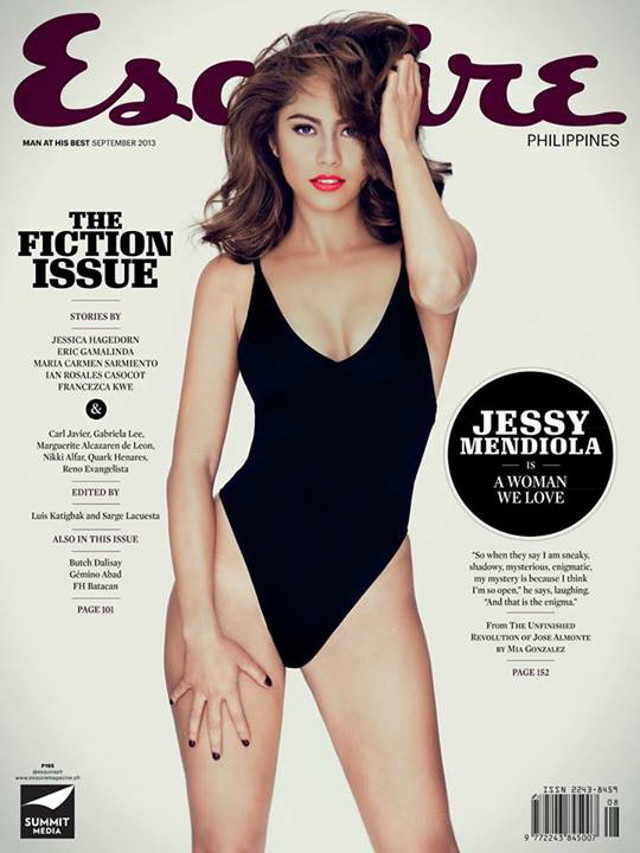 My Take:
Now that her latest TV series, Maria Mercedes, has just ended last January 24, Jessy should start practicing for her action stunts and move like Angel Locsin and Angelina Jolie. She should be able to learn and be at ease with a harness.
Since she appeared as a boy in disguise during their Christmas presentation in 2013 at ASAP, an ABS CBN Sunday variety show, she really looked like a handsome teen boy! I guess it would be nice to see her in the same disguise in Darna. In the story, the reason for this disguise in Darna is because their father suddenly disappeared for no apparent reason. And as the older sister and breadwinner in the family, she refuses to be courted by any guy. However, she will fall in love with a guy who happens to be a close friend of hers but the guy is in love with another girl. But as Darna, she will appear so pretty and a sexy action heroine, and as Narda (the normal girl) eventually she will transform into a very beautiful girl to be liked by the guy she has feelings for. Hehehe!
It's official, Angel Locsin will be portraying Darna for the second time, but this time, it is going to be on the big screen and will be shown in theaters in 2015. Of all the actresses who portrayed this Philippine Heroine, it is Angel Locsin who can really pose well in fight scenes, and can act like a real heroine. (Actually, she is on and off the camera because of her humbleness and kind heart.)
_________________________________
_________________________________
FOREVERMORE
(Starring : Enrique Gil and Liza Soberano)
Filipino, Ilocano, English
Main cast
Supporting cast
Marissa Delgado as Doña Soledad Grande

Luz Fernandez as Aling Garrieta

Joey Marquez as Buboy "Papang" Calay
Zoren Legaspi as Alexander "Alex" Grande II
Lilet as Bettina Rosales
Irma Adlawan as Nanay Mirasol

Beverly Salviejo as Meg

Sofia Andres

Yves Flores as Andrew

Kit Thompson as Julius San Juan

Nonong Bangkay as Mang Banky

Almira Muhlach

Joj Agpangan as Clauie

Jai Agpangan

Marco Gumabao as JC

Igi Boy Flores
Extended cast
The theme song of the series entitled Forevermore is performed by Juris. It is originally performed by Side A
| PILOT EPISODE | FINALE EPISODE | PEAK | AVERAGE | SOURCE |
| --- | --- | --- | --- | --- |
| 27.1% | TBA | 27.1% (Pilot Ep., as of November 3 ,2014) | TBA | |
My Take:
This is the show that at the first day of showing on television made an instant recall. I love the new setting, the plot, the casting (come to think of it, the actors (supporting actors) have appeared in previous shows in the past but were given small roles and not regularly seen in any projects but turned out now that they have potential and have given their characterization a boost.) I knew that Liza Soberano is going to be a very good actress, and better at rom-com because of her natural acting portrayal. She and Enrique Gil clicked together here and for sure in their first movie together as leads in The Bet. (They both co-starred in the movie last year in She's The One with Bea Alonzo and Dingdong Dantes.)
I love the very cold weather in Benguet, Baguio. I love the strawberries!