SEE ALSO WHO'S WHO & WHAT'S GOING ON IN THE PHILIPPINES 2013 POST
(SCROLL DOWN FOR UPDATES)
WONDERFUL MAMA
shot in Cebu its Vacation Episodes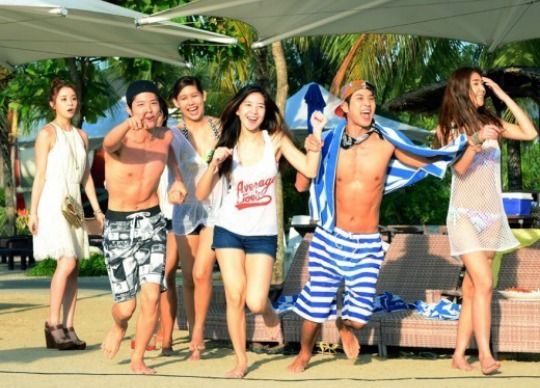 Wonderful Mama. The story is about
Yoon Bok-hee has accomplished a lot in her life, working her way up from running a money-lending market stand to managing millions. But her priorities shift when she's faced with a diagnosis of
early-onset Alzheimer's
. Her degenerative disease threatens her ability to manage her business and eventually the details of her daily life.
After receiving her diagnosis, she realizes that her most important goal is helping her children to grow up in a hurry. She must teach them how to run the family business and they must also learn how to care for her when she can no longer care for herself. It won't be easy as they still have a lot of growing up to do.
-----------------------------------------
Upcoming Korean drama shoots scenes in Cebu
CEBU, Philippines - Seoul Broadcasting System (SBS), one of three major broadcast stations in South Korea, flew in five actors and a production crew to Cebu to shoot scenes for an upcoming weekend drama titled Wonderful Mama.
Majority of the scenes here were shot in

Imperial Palace Waterpark Resort and Spa, a five-star hotel located in Barangay Maribago, Lapu-Lapu City, Cebu. Other shooting locations will be in Carbon market and a mining site.
According to Wonderful Mama director You-Hae Yoon, the plot requires the story's main characters to embark on a family and business trip to Cebu.
"You have a nice beach, and it's very accessible since we have many direct flights from Korea to Cebu. We were very interested with this nice resort, Imperial Palace, especially their royal suites. The scenes we are shooting here will cover two episodes," the director said. Some of the previous dramas he helmed were King and I, Two Wives, Three Sisters and I Love You.
Described as a heart-warming family drama, Wonderful Mama revolves around a self-made businesswoman (played by 48-year-old veteran actress Bae Jong-ok) who went from operating a little marketplace to owning multi-million buildings.
She is a rich moneylender with three kids, but is tragically diagnosed with early-onset Alzheimer's at the height of her success. Before she totally succumbs to dementia, she makes it her mission to teach her immature, vain and arrogant daughters the ways of the business and the importance of family.
Wonderful Mama is set to premiere on SBS this April 21, airing on Saturday and Sunday evenings for 50 minutes per episode. There will be 50 episodes in total, with the Cebu scenes appearing on the fourth and fifth episodes.
Imperial Palace's sales manager Anita Kim and Director of Sales and Marketing Ryan Cho said they plan to invite Korean productions to shoot in Cebu at least two to three times a year.
When asked why he thinks Korean series are so well-loved in other countries, the Philippines included, director You-Hae Yoon simply said, "We are enthusiastic and dynamic with our work, and we often show the diversity in Korean culture."
SBS is a private national South Korean television and radio network that airs a variety of entertainment programs ranging from informational, comedy, music, reality, talk shows and auditions. The network's dramas have been part of the "Korean wave" exported to many countries across the world. A few dramas from the network that have enjoyed high viewership include Lovers in Paris, Trap of Youth, Brilliant Legacy, Rustic Period and Temptation of Wife. (FREEMAN)
____________________________________________________
____________________________________________________
August 7, 2013
Korean stars Lee Jong-suk, Seo In-guk arrive in Davao for film shoot
By Jonathan M. Hicap
Published: August 7, 2013
Lee Jong-suk and Seo In-guk at Incheon International Airport (left) on their way to Manila and upon their arrival at Ninoy Aquino International Airport Terminal 2 (right). (Photos courtesy of www.newsen.com and @maraiph on Twitter)
Korean actors Lee Jong-suk and Seo In-guk arrived in the Philippines on Tuesday for the filming of the movie "No Breathing."
The two arrived at the Ninoy Aquino International Airport and boarded their flight to Davao, where the film will be shot.
Unfortunately, Girls' Generation member Yuri, one of the main stars of the film, will not be going to Davao.
"She has no scene to shoot in Davao," Art Boncato, regional director of the Department of Tourism (DOT), told Bulletin Entertainment.
He added, ""Only the lead actors and several more actors are filming in Davao in various locations in and out of Davao City."
About 15 actors belonging to an 84-man team of cast and crew of the film are in Davao.
A source from the DOT told Bulletin Entertainment last Aug. 5 that Yuri would be part of the cast that would be arriving in the country.
The DOT is sponsoring part of the filming in Davao.
"The DOT through the Philippine Tourism Promotions Board is sponsoring part of the Davao shoot. This is linked to DOT's current campaign implemented by our office in Korea to position Davao for the Korean markets. The film aims to show sites, sounds and attractions of the Davao region," Boncato said.
Koreans are the top tourists in the Philippines.
According to the DOT, tourist arrivals in the country totaled 2.01 million from January to May this year, an increase of 10.54 percent compared to 1.81 million tourists in the same period last year.
A total of 489,389 Koreans visited the Philippines for the first five months of 2013, or 24.33 percent of the total. Last year, 397,170 Koreans came to the country in the same period.
Koreans are followed by tourists from the US with 306,056; Japan, 179,984; China, 163,879; and Australia, 88,190.
"No Breathing" is a story about swimming competition starring Lee Jong-suk, Seo In-guk and Yuri.
The film will be released in Korea later this year, 2013.
__________________________________
__________________________________
15 Minutes Exposure of Davao City in the Korean Film "No Breathing" (노 브레싱)
Beuresing
", the romanized version of the word "
No Breathing
" is the title of the upcoming Korean film. And what's so special about this movie? Oh well, a 15 minutes part of this movie will be shot in the most beautiful city in the Philippines-
DAVAO City
. Among the first choices of location for shooting are Manila, Cebu and Davao. The film producers chose Davao City because they were impressed with the vast natural richness and the cleanliness of Davao City, and I will so much agree with that fact. It is indeed the right and the best choice, not only because I have spent several years of my life on that beautiful city, but because it is the most livable city in the Philippines.
"No Breathing" is a story about rivalry over love and achievement. It is about the two swimmers competing for the top spot in the national team. However, the situation becomes more complicated when they found out that both of them fall in love with the same girl. This is about love, friendship and competition. The movie topbills big Korean celebrities like Lee Jong-Suk, Seo In-Guk and Park Jeong Cheol.
There are so much to be proud about Davao City that 15 minutes could be not enough to showcase the greatness of the city. But of course, it is already a big thing and something to be thankful of to the Korean producers for choosing Davao. In that 15 minutes exposure, here are my unsolicited suggestions for locations.
They have been filming every day in different parts of Davao. One of the locations used for the film is the Pearl Farm Beach Resort.
Besides Lee Jong-suk and Seo In-guk, other cast members in Davao are Shin Min-chul and Park Jeong-cheol.
On August 6, Seo In Guk shared the above picture and
tweeted
, "
I'm going to Davao, Philippines to shoot the movie. I'll have a pleasant journey~ :).
"
Seo In-guk (left) is familiar to Pinoy (short term for Filipino) viewers as the young Charlie in the Koreanovela "Love Rain", which airs weekday mornings on ABS-CBN. He also re-appeared in the series, this time as Kenneth,
the rocker
nephew of Charlie.
Lee Jong Suk (left) meanwhile was part of another Koreanovela, "Secret Garden", which was aired via GMA 7 in 2011.
The Korean cast and crew were given a grand welcome dinner by people from
the Department
of Tourism in Southern Mindanao. According to DOT XI
Regional Director
Arturo "Art" Boncato in his
Facebook Page
, the 83-man Korean cast and crew were accorded simple, hearty and heart-filled Filipino/Mindanao/Davao reception. (Photos credit to Mr. Boncato)
With KALUMON PERFORMING ENSEMBLE Davao dancers
SHOOTING AT MARCO POLO HOTEL, Davao City
At the beach.
____________________________________________
MANILA, Philippines - In a few years, Makati City will look and feel different, and will be at par with modern cities that are walkable and liveable.
This is the promise of Ayala Land, which manages and owns a vast track of land in central and the outlying parts of the country's main business and financial district.
The country's biggest real estate group has announced a plan that would involve investing a hefty
P60 billion
to transform and revitalize Makati City.
While Makati City still reigns as host to the most number of corporate headquarters and workplace of choice among office-bound workers, it has to stay relevant amid the sprouting new business and commercial districts in the metro.
Ayala Land will reshape their Makati properties into 6 districts that better serve the people living and using them.
Among others, the new Makati will feature more walkways, more transportation options and more community events.
Specifically, These are the developer's plans:
#1 Elevated walkways and pedestrian underpasses will be extended and updated.
"The city of the future is not about cars, it's about pedestrianization," Meann Dy, head of strategic land banking told broadsheets at a press briefing on March 22.
Some walkways could even be utilized as additional retail space. Meanwhile some underpasses could showcase exhibits to give walkers by a pleasant view.
#2 Glorietta 1 and 2 -- currently closed for renovation -- will open 200 new stores by October. All the malls should be fully open by Christmas.
#3 A new public transport friendly district called Makati South will become a nexus for commuters.
#4 The Ayala Triangle will host more events to foster a community feel as people gather together for public activities.
The lights show in Ayala Triangle Garden during Christmas is popular but Ayala Land wants to host activities year-round.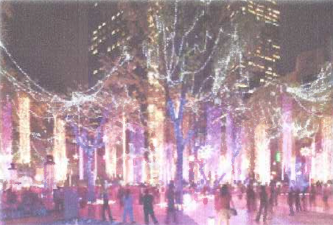 #5
Ayala hopes to appeal to the budding creative crowd by housing a pocket art park by the rising Kroma and Solaris residential towers.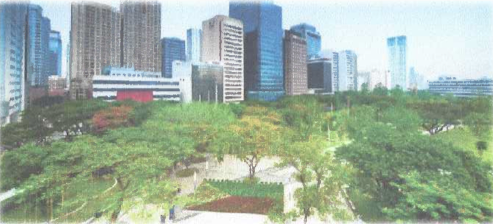 The young crowd will also find retail shops near office spaces in the new mixed use Makati North district.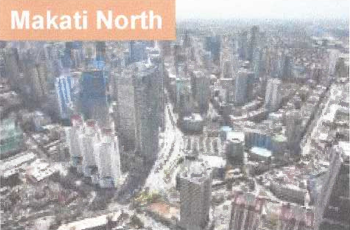 #6 In Sta. Ana, an abandoned racetrack will be transformed into an entertainment district with a mixed-use township.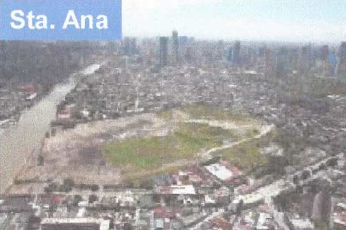 Ayala Land and the Makati city government are serious about the makeover campaign and later this year will join together to promote the new revitalization campaign, using the tagline, Make It Happen, Make It Makati.
Disneyland in the Philippines?
MANILA, Philippines — Is the land "where dreams come true" becoming a reality for the Philippines?

Representative Carmelo "Tarzan" Lazatin has reportedly written a letter to Thomas Staggs,

chairman of Walt Disney Parks and Resorts, encouraging him to expand the international leisure park franchise on Philippine soil.
Working with the Department of Tourism, Lazatin aims to catapult the Philippines to the top spot of the best tourist destinations in the world, claiming the success of the endeavour will urge more foreign visitors.
Lazatin markets the Clark Freeport Zone as the perfect site to build the world renowned theme park. He writes, "The Clark Freeport Zone may interest you and Walt Disney as the next location for your famous Disneyland theme park, as it boasts of a 4,400-hectare main zone and 27,600-hectare subzone."
Moreover, he mentions how this project will also benefit Walt Disney, referring to Clark Freeport Zone's tax free privilege for developers, and the already prolific tourist status in the Philippines. An estimated 4 million foreigners visit the country per year.
In the letter, he wrote, "Together with our population of more than 90 million Filipinos, a Disneyland theme park in the Philippines could be a major income generating site for your company."
In another letter to DOT Chairman Ramon Jimenez, Lazatin explains, "I notified (Walt Disney) that Clark Freeport Zone also has its own world-class airport and hotels which can accommodate the influx of foreign and local tourists."
Trending worldwide, the news received mixed reactions, with many debating the practicality and success of the plan amidst widespread poverty in the country.
In Asia, Disneyland theme parks are found in Hong Kong, Tokyo, and Shanghai. - Rappler
____________________________________________
____________________________________________


Chinese daily names PH 'best tropical island destination'
China and the Philippines may be embroiled in a sea dispute, but that doesn't seem to stop the Chinese from appreciating its neighboring archipelago.
The country was named the "Best Tropical Island Destination" by the Shanghai Morning Post January 7, the Department of Foreign Affairs said.
The award was based on a consumer survey done by the Chinese New Daily and Shanghai QQ.com, one of the biggest social media platforms in China.
Aside from the Philippines, also named popular picks for Chinese tourists were Switzerland, Hong Kong, New Zealand, Canada, France, UK and South Korea.
The DFA said the award affirms the Philippines' reputation as an "exciting and fun destination for the ever growing Chinese outbound travelers."
As of October 2013, some 365,905 tourists from China arrived in the Philippines, up 70 percent from the same period in the previous year.
"The increase was achieved despite the weather-related catastrophes which affected travel to the Philippines last year," the DFA statement noted.
Growth in Chinese tourist arrivals, it added, may be attributed to the aggressive "It's More Fun in the Philippines" campaign as well as expanded air access.
Direct flights are now being mounted from different cities in China to the country's top destinations including Boracay, Clark, Laoag and Cebu.
DFA added that there are plans to open chartered flights to Legazpi, which will be anchored on Misibis Bay, as well as Puerto Princesa and Bohol.
This is not the first year the Philippines won an award from the Shanghai Morning Post. Last year, it was named the "Most Romantic Destination."
________________________________________________
No need to print plane tickets for trips abroad
Did you buy your ticket online? If you're wondering whether you could use the electronic copy at the international airport, the answer is yes.
This, as the Justice department on Wednesday announced that printed copies of tickets are no longer needed at airports' immigration desks.
Filipinos traveling abroad, who are required to present return tickets, may show electronic copies using gadgets such as phones or tablets.
Foreign travelers may also show tickets for return or onward flights using mobile devices at the country's various points of entry.
The policy spelled out in Operations Order No. SBM-2013-003 is seen to "improve access to basic government services," the Justice department said.
"We shall continue to work with all stakeholders to inject common sense and process logic into our systems," Justice Secretary Leila De Lima added.
Prior to the new rule immigration desks required travelers to present hard copies of their tickets, along with their passports and visas, when applicable.
Under the law, Filipinos traveling as tourists abroad should present return tickets while foreigners should show onward or return tickets.
__________________________________________
__________________________________________
Japan WWII soldier who hid in jungle until 1974 dies
By
Hiroshi Hiyama
|
AFP News
–
Fri, Jan 17, 2014
A Japanese soldier who hid in the Philippine jungle for three decades, refusing to believe World War II was over until his former commander returned and ordered him to surrender, has died in Tokyo aged 91.
Hiroo Onoda waged a guerilla campaign in Lubang Island near Luzon until he was finally persuaded in 1974 that peace had broken out, ignoring leaflet drops and successive attempts to convince him the Imperial Army had been defeated.
He died in a Tokyo hospital on Thursday of heart failure.
Onoda was the last of several dozen so-called holdouts scattered around Asia, men who symbolised the astonishingly dogged perseverance of those called upon to fight for their emperor.
Their number included a soldier arrested in the jungles of Guam in 1972.
Trained as an information officer and guerrilla tactics coach, Onoda was dispatched to Lubang in 1944 and ordered never to surrender, never to resort to suicidal attacks and to hold firm until reinforcements arrived.
He and three other soldiers continued to obey that order long after Japan's 1945 defeat.
Their existence became widely known in 1950, when one of their number emerged and returned to Japan.
The others continued to survey military facilities in the area, attacking local residents and occasionally fighting with Philippine forces, although one of them died soon afterwards.
Tokyo declared them dead after nine years of fruitless search.
However, in 1972, Onoda and the other surviving soldier got involved in a shoot-out with Philippine troops. His comrade died, but Onoda managed to escape.
The incident caused a sensation in Japan, which took his family members to Lubang in the hope of persuading him that hostilities were over.
Onoda later explained he had believed attempts to coax him out were the work of a puppet regime installed in Tokyo by the United States.
He read about his home country in newspapers that searchers deliberately scattered in the jungle for him to find, but dismissed their content as propaganda.
The regular overflight by US planes during the long years of the Vietnam war also convinced him that the battle he had joined was still being played out across Asia.
It was not until 1974, when his old commanding officer visited him in his jungle hideout to rescind the original order, that Onoda's war eventually ended.
Asked at a press conference in Japan after his return what he had been thinking about for the last 30 years, he told reporters: "Carrying out my orders."
But the Japan that Onoda returned to was much changed. The country he had left, and the one he had believed he was still fighting for, was in the grip of a militarist government, bent on realising what it thought was its divine right to dominate the region.
Crippled by years of increasingly unsuccessful war, its economy was in ruins and its people were hungry.
But the Japan of 1974 was in the throes of a decades-long economic boom and in thrall to Western culture. It was also avowedly pacifist.
Onoda had difficultly adapting to the new reality and, in 1975, emigrated to Brazil to start a cattle ranch, although he continued to travel back and forth.
In 1984, still very much a celebrity, he established a youth camp, where he taught young Japanese some of the survival techniques he had used during his 30 years in hiding, when he lived on wild cows and bananas.
He returned to Lubang in 1996 on a visit, reportedly at the invitation of the local government, despite his having been involved in the killing of dozens of Filipinos during his three-decade battle.
He made a donation to the local community, which was reportedly used to set up a scholarship.
Late into his life, he enjoyed good health and boasted of a fine memory, honed by the need to remember the intelligence he had gathered.
Until recently, Onoda had been active in speaking engagements across Japan and in 2013 appeared on national broadcaster NHK.
"I lived through an era called a war. What people say varies from era to era," he told NHK last May.
"I think we should not be swayed by the climate of the time, but think calmly," he said.
________________________________________________
________________________________________________



Aquino inaugurates C3-Quezon Ave. interchange
President Benigno S. Aquino III during the opening of the C-3 Road (Araneta Avenue) and Quezon Avenue Interchange Project in Quezon City Friday (Sept. 28). The new interchange is expected to ease traffic along EDSA and improve the level of service of congested roads within the area. (Photo and caption by Malacañang Photo Bureau)
_____________________________________
_____________________________________
Anne Curtis Nominated at Nickelodeon Kids' Choice Awards 2014 for Favorite Asian Act
T
he Philippines' Princess of All Media
Anne Curtis
is nominated at the Favorite Asian Act category of the 27th Nickelodeon
Kids
'
Choice
Awards (2014).
Anne Curtis will be up against GEM Deng Zhi Qi (China), Coboy Junior (Indonesia) and Lisa Surihani (Malaysia) for the said KCA 2014 Favorite Asian Act award.
Last year, Sarah Geronimo was also nominated in the Favorite Asian Act category of the 2013Kids' Choice Awards. However, she lost to former
Super Junior
member Han Geng of China.
Filipino International singing sensation Charice was the first recipient of the said award.
Charice Pempengco
won as Favorite Asian Act in 2012, the
first time
that the said category was introduced in the Kids' Choice Awards.
You can set another win for the Philippines by voting Anne Curtis in the Kids' Choice Awards poll page.
Nickelodeon's 27th Annual Kids' Choice Awards will be held on March 29, 2014, at the Galen Center in Los Angeles, California. It will be hosted by
Mark Wahlberg
.
The Nickelodeon Kids' Choice Awards, also known as the KCAs or Kids Choice Awards, is an annual awards show that honors the year's biggest television, movie, and music acts, as voted by Nickelodeon
viewers
.
____________________________________
____________________________________
Bench Summer 2014 Campaign - Live Life With Flavor (Boys of Summer Photos)
G
lobal brand Bench has unveiled the photos for their summer 2014
ad campaign
titled '
Live Life
With Flavor.' The said
ad campaign
features the brand's hottest endorsers
wearing
their BENCH's summer 2014 collection: bright colored denims, zesty
graphic
prints, and
striking
design.
Showing us how to take a bite out of life are BENCH's boys of summer,
starting
with Global Benchsetter Lee Min Ho. The boys put on the hottest tops to stay on top of the summer heat, and give us
a taste of
one cool collection to covet.
Check out the Bench 2014 ad campaign 'Live Life With Flavor' photos below featuring the Filipino celebrities and personalities for Bench Boys of Summer:
Bench Summer 2014 Campaign - Live Life With Flavor (Girls of Summer Photos)
To show us how to lick life like a melting popsicle are BENCH's Girls of Summer. From Filipino celebrities and personalities like Jessy M to Julia B,
the ladies
slip
into fun, flirty, and frolic-worthy tanks and tees and give us
a taste of
one cool collection to covet.
Check out the Bench 2014 ad campaign 'Live Life With Flavor' photos below featuring the Girls of Summer:
Bench Summer 2014 Campaign - Live Life With Flavor (Bench Body Photos)
With the summer heat settling in, these Benchsetters show us enough reasons to strip down. BenchBODY keeps its Summer 2014 collection light and bright like the season—all fun pieces
good enough
to walk around in, maybe even ditch the
swimsuit
for.
Check out the Bench 2014 ad campaign 'Live Life With Flavor' photos below featuring the hot Filipino Bench Body models:
Photos courtesy of Bench
____________________________________________
____________________________________________
Binibining Pilipinas 2014 Top 12 bets for National Costume
_________________________________________
_________________________________________
Hollywood actor Gabriel Macht with Leyte Congresswoman Lucy Torres-Gomez
Photo posted by @GabrielMacht on Twitter

Gabriel Macht, known as lawyer Harvey Specter in the American drama series "Suits" arrived in Ormoc City, Leyte today, March 8, 2014. Globe Telecom, via Project Wonderful, sent the actor to the first-class city in Leyte for livelihood missions after the area was heavily damaged by Typhoon Yolanda last year.
Together with the DSWD, Globe has been granting businesses to beneficiaries as part of its Sustainable Livelihood Program (SLP), a community-based capacity-building program that seeks to improve the socio-economic status of program participants. "We are committed to contribute to nation-building by providing relevant entrepreneurship and livelihood opportunities among Typhoon Yolanda survivors in Ormoc so they can rise again and move forward," said Globe Vice President Issa Cabreira.
Gabriel Macht is a character who have done projects in film, television and even theater. If you've seen the skin-baring rom-com movie of Anne Hathaway and Jake Gyllenhaal "Love and Other Drugs", Gabriel is part of the film, portraying the role of Trey Hannigan who is one of Anne Hathaway's ex-lovers. Recently, he is part of the powerful cast of Robert DeNiro's critically-acclaimed film "The Good Shepherd" together with Matt Damon and Angelina Jolie.
"Witnessing the devastation of typhoon Haiyan, I felt compelled to raise awareness and financial aid to help thousand of people still struggling to get back on their feet. There is so much work to still to do. I'm excited to be part of the rebuilding and I'm hoping that so many more will join the effort," Macht shared.
The good-looking actor, who was also part of the cast of "Sex and the City" and "Spin City" among others, has reportedly visited select villages where most of Globe's Project Wonderful beneficiaries live.