NOTE:
RATION OF RELIEF GOODS ARE BEING SENT TO AFFECTED AREAS REGULARLY SO IT IS NOT TRUE THAT NO HELP HAS EVER REACHED THEM. HOWEVER, IT IS VERY APPARENT THAT PHILIPPINE AGENCIES LOCALLY LACK DELIVERY TRUCKS, SHIPS AND CHARTER PLANES TO CARRY LOADS OF SHIPMENT / GOODS, & THESE AGENCIES ARE REQUESTING FOR LOGISTICS COMPANIES THAT CAN PROVIDE FREE SERVICE
24/7
.
TO THE PEOPLE AFFECTED BY THE DEVASTATING SUPER TYPHOON, EVERYONE KNOWS THAT PEOPLE THERE ARE HUNGRY. BUT HELP IS COMING. PLEASE BE PATIENT. VOLUNTEERS ARE NEEDED. LET THE BAYANIHAN SPIRIT PREVAIL AROUND THE WORLD.
________________________________________
THE PHILIPPINES' RAINY SEASON STARTS FROM THE MONTH OF JUNE UNTIL DECEMBER. IT IS ALWAYS EXPECTED THAT HEAVY RAINS AND TYPHOONS WILL BE APPARENT IN THE COUNTRY WHICH WILL CAUSE FLOODS AND HEAVY TRAFFIC. ESPECIALLY NOW THAT CLIMATE CHANGE HAS BEEN OCCURRING.
THOUSANDS OF PEOPLE SUFFERED AND DIED.
The Philippines' El Gama Penumbra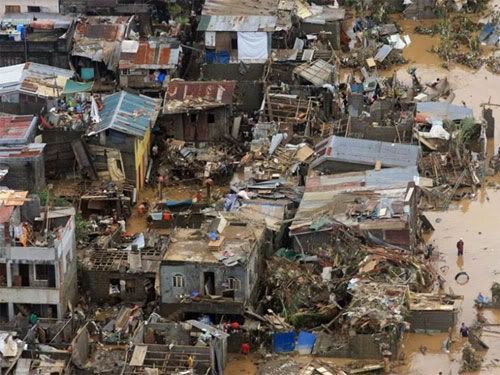 Typhoon "Ondoy" brought damages to Metro Manila after it was submerged with floodwaters that rose so high (at least 12 feet) and tons of mud that left so many people homeless, and a large number of death tolls particularly in Marikina City.
In September 2012, floodwaters and strong winds had affected Metro Manila again due to "Habagat" or "Southwest Monsoon".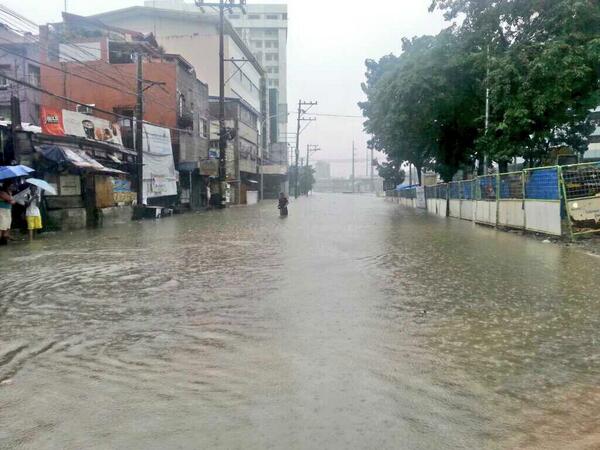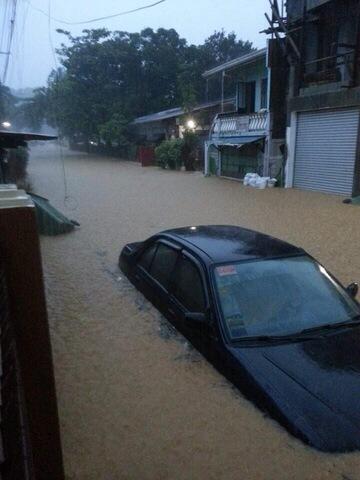 Bopha (Typhoon Pablo) made landfall late on December 3, 2012 in Mindanao, an island that had been devastated by the much weaker Tropical Storm Washi in December 2011. The storm caused widespread destruction on Mindanao, leaving thousands homeless and thousand of fatalities or more, unrecorded.
After hitting Davao Oriental and Compostela Valley provinces, Typhoon Bopha crossed the southern and central regions of Mindanao, cutting power to two provinces and triggering landslides. More than 170,000 people fled to evacuation centers. The typhoon moved to the South China Sea west of the Palawan island province, eventually dissipating on December 9.
Typhoon Pablo destroyed properties and lives in Cateel, Davao Oriental
Last October 15, 2013, Provinces of Bohol and Cebu were hit by a magnitude 7.2 earthquake that left almost all of the residents in Bohol homeless.
It affected the whole
Central Visayas
region, particularly Bohol and
Cebu
. It was also felt in Negros Occidental and Iloilo. The quake was felt in the whole Visayas provinces and as far as
Masbate
island in the north and Cotabato provinces in southern
Mindanao
.
A total of 3,198 aftershocks were recorded, 94 of which were felt.
Included in the aftershocks is the 4.6 magnitude tremor experienced at 12:59 a.m. of October 26, 2013.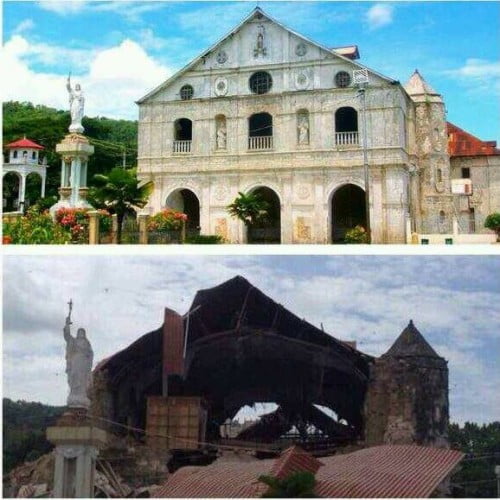 Before and After the quake.
Above, Chocolate Hills, before any earthquake. One of the tourist spots of BOHOL.
The Chocolate Hills, one of the tourist spots of Bohol, after the earthquake.
Baguio Hilltop Hotel in Bohol
Now, November 08, 2013, Super Typhoon Haiyan or Yolanda hits the Philippines, particularly Samar & Leyte, Bohol and Cebu, and other Visayas provinces. This is the strongest typhoon (stronger than Bopha or Pablo) that ever hit the Philippines and makes world record.
"TYPHOON YOLANDA" IS THE MOST POWERFUL TYPHOON IN THE HISTORY OF THE PLANET (MUCH MORE DESTRUCTIVE THAN HURRICANE KATRINA)
"Widespread torrential rain and damaging winds will accompany Haiyan through the central Philippines, threatening to leave a trail of destruction and triggering life-threatening flash floods," Accuweather said.
"Rain totals along the path of Haiyan could top 200 mm (8 inches). Mudslides are a serious concern in the higher terrain, where localized totals of 250 to 300 mm (10 to 12 inches) are not out of the question," it added.
The northeast monsoon, meanwhile, continues to affect northern and Central Luzon.
"The whole country will experience partly cloudy to cloudy skies with light rains over the regions of Cagayan Valley, Cordillera, Ilocos and Central Luzon while Metro Manila and the rest of the country will have isolated rainshowers or thunderstorms mostly over the eastern section," Pagasa's morning bulletin said.
Moderate to strong winds blowing from the northeast will prevail over Luzon and western Visayas and the coastal waters along these areas will be moderate to rough. Elsewhere, winds will be light to moderate coming from the northeast to north with slight to moderate seas.
MANILA, Philippines - Public storm warning signal no. 4 is expected to be hoisted over eastern Visayas once powerful typhoon Yolanda makes a landfall in the next few days, the state weather agency said.
PAGASA Senior Weather Forecaster Mario Palafox told a state news agency on Wednesday that Yolanda will directly affect sections of Visayas once it enters the Philippine Area of Responsibility early on Thursday.
Palafox said that if the typhoon maintains its direction and speed as it pummels through Visayas on Friday, the agency will raise the highest storm warning signal.
Signal no. 4 conditions include "very strong winds of more than 185 kilometers per hour for at least 12 hours."
Currently, Yolanda (international name: Haiyan) is packing maximum sustained winds of 150 kph and has gustiness of up to 185 kph, moving west northwestward, Palafox said.
Since it is still at sea, the typhoon may still continue to strengthen before it reaches land. The weather disturbance's current speed places it under the category of "super typhoon."
Palafox said Yolanda is forecasted to exit through Mindoro on Sunday.
PAGASA said in an advisory that Yolanda's possible impacts may include extensive damage to some agricultural plantations such as coconut, rice and corn, uprooting of many trees, severe damage to most residences and buildings of mixed construction and severe disruption of electrical power distribution and communication services.
Yolanda may also incur heavy overall damage to affected communities.
PRESIDENT NOYNOY AQUINO MADE A TELEVISED ADDRESS CONCERNING THE APPROACHING SUPER TYPHOON
In a televised address on Thursday evening, Aquino asked for cooperation among Filipinos for the possible severe effects of the approaching super typhoon.
"Sa kasalukuyang datos, mukha pong mas matindi ang hagupit ni Yolanda kaysa kay Pablo," Aquino said.
"Seryosong peligro ito at maaaring mabawasan ang epekto kung gagamitin natin ang impormasyon upang maghanda," he added.
Aquino assured that all the disaster risk reduction and management councils are now prepared and relief goods have been pre-positioned in areas expected to be affected.
For this year, Yolanda is the 24th tropical cyclone to enter the Philippine Area of Responsibility and the strongest to hit land.
State weather bureau PAGASA and international agencies have classified Yolanda as a super typhoon.
As of 4 p.m., Yolanda was located at 543 km Southeast of Guiuan, Eastern Samar bearing maximum sustained winds of 215 kilometers per hour near the center and gusts of up to 250 kph.
Public storm warning signal no. 4 has been raised in five provinces of Eastern Visayas, where Yolanda is expected to make landfall on Friday morning.
YOLANDA MAKES WORLD RECORD
International weather monitoring groups have tagged "Yolanda" (international name Haiyan) a super typhoon, warning the Philippines against a trail of death and destruction.
"Haiyan became a super typhoon Wednesday morning," commercial weather service Accuweather said, calling Yolanda the world's "strongest tropical system" this year.
A
bulletin
by the U.S. National Environmental Satellite, Data and Information Service meanwhile said Yolanda "has developed to almost max intensity for a cyclone."
"Based on satellite imagery, [Haiyan's] the strongest storm I've seen since Bopha," a Washington post report quoted WeatherBell meteorologist Ryan Maue as saying.
Bopha—named Pablo as it entered the Philippine area of responsibility—hit Mindanao in December 2012, killing hundreds in flashfloods and landslides.
"Widespread torrential rain and damaging winds will accompany Haiyan through the central Philippines, threatening to leave a trail of destruction and triggering life-threatening flash floods," Accuweather said.
It is also forecast to directly impact Visayas areas of Leyte, Cebu, Biliran, Iloilo, Capiz, Aklan, Romblon, Mindoro, Busuanga and Semirara Island.
Storm warning signals have been raised in several areas, with Pagasa warning residents against possible floods and landslides, as well as storm surges in coastal areas.
The weather bureau earlier said it may raise the rarely used storm warning signal number 4 in some areas in Yolanda's path, especially the countries' southern provinces.
Accuweather said "the worst of the storm will bypass the capital city of Manila, but damaging winds of 80 to 120 kph and rainfall of 100 to 200 mm are still expected."
It however warned of the storm's impact on Cebu and Bohol, which have recently been hit by a strong typhoon "Vinta". The two areas are now under signal number 2.
US News on Super Typhoon Haiyan or Yolanda in the Province of Leyte, Philippines
Storm Surge in Downtown Leyte
Atom Araullo, ABS-CBN News Reporter was reporting live and showed that storm surge just happened within a few minutes
Eyewitness Footage of Super Typhoon Haiayan in Ernani, Eastern Samar
Strong Winds and Storm Surge
Province of Oriental Mindoro
Barge in Bohol
Storm Surge in Tacloban City, Leyte
Drowned more than a 100 people and hundreds more missing
AERIAL VIEW
Hospital In Tacloban City Overflowing
Miserable situation of the People in Tacloban City, Leyte
AERIAL VIEW c/o BBC
VISAYAS PROVINCES THAT WILL EXPERIENCE HARSHNESS OF THIS SUPER TYPHOON ARE:
SIGNAL NO. 4
Eastern Samar
Samar
Leyte
Southern Leyte
Biliran Island
SIGNAL NO. 3
Visayas
Northern Samar
Masbate
Northern Cebu
Bantayan island
Mindanao
Siargao Island
Dinagat Province
SIGNAL NO. 2
Luzon
Romblon
Sorsogon
Albay
Burias Island
Visayas
Bohol
Negros Occidental
Negros Oriental
Aklan
Capiz
Antique
Iloilo
Guimaras
Mindanao
Surigao Del Norte
Surigao Del Sur
Agusan del Norte
SIGNAL NO. 1
Luzon
Camarines Norte
Camarines Sur
Catanduanes
Mindoro Provinces
Marinduque
Northern Palawan
Calamian Group of Island
Southern Quezon
Visayas
Siquijor
Mindanao
Misamis Oriental
Agusan del Sur
_______________________________________________________________
LEYTE PROVINCE IN THE PHILIPPINES WAS GREATLY AFFECTED BY THE DEADLY SUPER TYPHOON HAIYAN
____________________________________________
THANK YOU TO THE FOREIGNERS & OTHER OVERSEAS COUNTRIES WHO ARE HELPHING & REACHING OUT. FOREIGNERS, TOURISTS, THE LOCALS ARE ALSO VOLUNTEERING TO PACK & REPACK RELIEF GOODS IN PALAWAN, METRO MANILA, & OTHER PROVINCES TO BE SENT TO AREAS & PROVINCES THAT WERE AFFECTED BY THE SUPER TYPHOON.
SEVERAL COUNTRIES HAVE ALREADY SENT DONATIONS TO HELP THE VICTIMS, HOLLYWOOD STARS & PHILIPPINE LOCAL CELEBRITIES AND PERSONALITIES HAVE ALREADY OPENED THEIR OWN GARAGE SALES & SOLD OUT THEIR IMPORTED ITEMS IN ORDER TO EARN MORE MONEY TO SEND OUT TO THE VICTIMS.
HELP IS NEEDED FOR THE LOCALS IN THESE PROVINCES. KINDLY COORDINATE WITH THE LOCAL FOUNDATIONS & AGENCIES REGISTERED LEGALLY IN THE PHILIPPINES AND THESE ARE CERTIFIED & RELIABLE TRUE FOUNDATIONS THAT SUPPORT THE PHILIPPINE CITIZENS AFFECTED BY CALAMITIES.
THE PEOPLE OF THE AFFECTED AREAS HAVE RUN OUT OF FOOD, WATER, CLOTHING, & MEDICINES.
TENTS, BODY BAGS, DELIVERY TRUCKS, FREE MEDICAL ASSISTANCE & VOLUNTEERS ARE VERY MUCH NEEDED.
Sagip Kapamilya (Main Office, Manila)
sagip@abs-cbn.com
+ 63 2 415-2272 loc 3765
+ 63 2 411-4995
Sagip Kapamilya Northern Mindanao Office (Cagayan De Oro)
Tel no: +63 88 880-4475
Sagip Kapamilya is the emergency humanitarian assistance program of ABS-CBN Foundation, Inc. We provide food and non-food relief to affected communities of disasters, as well as engage in rehabilitation and disaster risk reduction projects.
Donate
Sagip Kapamilya accepts donations in cash or in-kind.
IN-KIND DONATIONS
For donations in kind, you can drop them off at:
Sagip Kapamilya Warehouse
#13 Examiner St. West Triangle, Quezon City
CASH DONATIONS
For cash or cheque donations, you may go to:
ABS-CBN Foundation, Inc. Bldg.
Mother Ignacia Avenue corner E. Lopez St. Brgy. South Triangle, QC
Office tel. no: +632-411-4995 or +632-415-2272 loc 3765
or deposit to the following SAGIP KAPAMILYA Bank Accounts:
Peso Account
Bank Name: BANCO DE ORO
Bank Account No: 393- 011-4199
Bank Account Name: ABS-CBN Foundation Inc. - Sagip Kapamilya
Branch:Sct. Albano, Quezon Avenue, Quezon City
Swift Code: BNORPHMM
Dollar Account
Bank Name: BANCO DE ORO
Bank Account No: 393-008-1622
Bank Account Name: ABS-CBN Foundation Inc. - Sagip Kapamilya
Branch:Sct. Albano, Quezon Avenue, Quezon City
Swift Code: BNORPHMM
Peso Account
Bank Name: BANK OF THE PHILIPPINE ISLANDS
Bank Account No: 305-111-2775
Bank Account Name: ABS-CBN Foundation Inc. - Sagip Kapamilya
Branch:West Triangle, Quezon City
Swift Code: BOPIPHMM
Dollar Account
Bank Name: BANK OF THE PHILIPPINE ISLANDS
Bank Account No: 3054-0270-35
Bank Account Name: ABS-CBN Foundation Inc. - Sagip Kapamilya
Branch:West Triangle, Quezon City
Swift Code: BOPIPHMM
Peso Account
Bank Name: PHILIPPINE NATIONAL BANK
Bank Account No: 419-539-5000-13
Bank Account Name: ABS-CBN Foundation Inc. - Sagip Kapamilya
Branch:Timog, Quezon City
Swift Code: PNBMPHMM
Dollar Account
Bank Name: PHILIPPINE NATIONAL BANK
Account Number: 419-539-5000-21
Account Name: ABS-CBN Foundation, Inc.-Sagip Kapamilya
Branch:Timog, Quezon City
Swift Code: PNBMPHMM
Peso Account
Bank Name: METROBANK
Account Number: 636-3-636-08808-1
Account Name: ABS - CBN Foundation, Inc. - Sagip Kapamilya
Branch: Examiner Quezon Ave. Branch
Swift Code: MBTCPHMM
* For confirmation of donation, please fax (+632-411-4995) or email (
sagip@abs-cbn.com
) copy of transmittal/ transaction slip with complete donor's information.
IN KIND DONATIONS MAY BE DELIVERED PERSONALLY TO:
Sagip Kapamilya
Warehouse is open Mon-Fri 9:00am - 4:00pm. We do conduct volunteer orientation at #137 Sagip Kapamilya Warehouse, Mother Ignacia Avenue, Quezon City.
Please get in touch with:
Jennifer Del Rosario
Project Assistant
+63 2 411-4995
Mr. Jet Bautista, Warehouse Officer
+63 2 413-2667
_____________________________________________
BANTAY BATA 163
Dialing 1-6-3 means hope for Filipino children and their families suffering in silence due to child abuse.
Through the unwavering support and generosity of individuals and organizations around the world, Bantay Bata 163, the child welfare arm of ABS-CBN Foundation continues to serve and protect Filipino children...
For the abused, Bantay Bata 163 provides the child helpline 1-6-3, legal services and shelter, to help them heal and move on from situations of physical and sexual abuse to safer and more caring environments and families
For sick children whose families cannot afford treatment, Bantay Bata 163 provides medical assistance.
For children who simply have less in life, Bantay Bata 163 has feeding programs, and educational scholarships, empowering them with proper education and nutrition to help them reach their dreams.
By spearheading trainings, seminars, and conferences, Bantay Bata 163 hopes to prevent child abuse, uphold the rights of children, and disseminate knowledge on laws, techniques and systems in protecting children.
In the year 2011, through the help of volunteers and partners, Bantay Bata 163 Caravan brought its medical and dental services to 14 sites nationwide to empower the communities and help in nation-building.
Also, in celebration of 15 years this year, Bantay Bata 163 empowers educators through conferences to take on the lead in cultivating positive discipline than corporal punishment in schools.
Bantay Bata 163 has branches and desks all over the country-Manila, Laguna, Pangasinan, Bicol, Cebu, Iloilo, Negros, Davao, Zamboanga, Socsargen, and now Northern Mindanao-realizing the dream of creating a better world for Filipino children.
Bantay Bata 163 is a child welfare program launched in 1997 to protect disadvantaged and at-risk children through a nationwide network of social services. It includes the rescue and rehabilitation of sick and abused children, training and advocacy on child abuse prevention, rehabilitation of families in crisis, educational scholarships, livelihood, community outreach and medical and dental missions.
TO DONATE
OVERSEAS DONORS
Telephone Numbers:
+63 2 415 6625
+63 2 411 0856
annaliza_cantoy-ctl@abs-cbn.com
PHILIPPINE-BASED DONORS
(individuals/organizations/groups)
Telephone Numbers: +63 2 415 6625
celeste_marcelo-ctl@abs-cbn.com
PHILIPPINE-BASED CORPORATE PARTNERS
Telephone Numbers:
+63 2 411 0856
+63 2 415 6625
freda_dador@abs-cbn.com
Hotline: 163
BANTAY BATA 163 OVERSEAS OFFICE
USA
ABS-CBN Foundation, Inc.
150 Shoreline Drive
Redwood City, CA 94065
Telephone Number: 650 508 6119
Foundation@abs-cbni.com
ABS-CBN FOUNDATION INTERNATIONAL
At ABS-CBN Foundation International, our goal is to engage those who share our vision. Please feel free to email or call us and we will respond to you in a timely manner.
Thank you very much.
CALL TOLL FREE (800)

5272820
________________________________________________________________
________________________________________________________________
GMA Kapuso Foundation, Inc.
2nd Floor GMA Kapuso Center
GMA Network Drive cor. Samar Street
Diliman, Quezon City 1103
Telephone Nos: (632) 9827777 loc. 9901/ 9904/ 9905
Telefax: (632) 9284299/ 9289351
Email: gmaf@gmanetwork.com
Website: http://www.gmanetwork.com/kapusofoundation