Miss Universe
is an annual international
beauty contest
that is run by the
Miss Universe Organization
. Along with the
Miss Earth
and
Miss World
contests, Miss Universe is one of the three largest beauty pageants in the world in terms of the number of national-level competitions to participate in the world finals
.
In 1998, the logo of Miss Universe – "the woman with stars" – was born, representing the beauty and responsibility of women around the Universe.
According to the organizers, the Miss Universe contest is more than a beauty pageant: women aspiring to become Miss Universe must be intelligent, well-mannered, and cultured
. Often a candidate has lost because she did not have a good answer during the question responses rounds; although this section of competition has held less importance during recent pageants than it did in the twentieth century. Delegates also participate in swimsuit and evening gown competitions.
The winner is assigned a one-year contract with the Miss Universe Organization, going overseas to spread messages about the control of diseases, peace, and public awareness of AIDS.
THE MISS UNIVERSE CROWNING MOMENTS
1926 - 2011
Country
Titles
Winning years
USA
8
1954, 1956, 1960, 1967, 1980, 1995, 1997, 2012
Venezuela
7
1979, 1981, 1986, 1996, 2008, 2009, 2013
Puerto Rico
5
1970, 1985, 1993, 2001, 2006
Sweden
3
1955, 1966, 1984

Philippines

2

1969, 1973

Japan
1959, 2007
Canada
1982, 2005
Australia
1972, 2004
India
1994, 2000
Trinidad & Tobago
1977, 1998
Thailand
1965, 1988
Finland
1952, 1975
Mexico
1991, 2010
Brazil
1963, 1968
Angola
1
2011
Dominican Republic
2003
Panama
2002
Russia
2002 (Not Official)
Botswana
1999
Namibia
1992
Norway
1990
Netherlands
1989
Chile
1987
New Zealand
1983
South Africa
1978
Israel
1976
Spain
1974
Lebanon
1971
Greece
1964
Argentina
1962
Germany
1961
Colombia
1958
Peru
1957
France
1953
| Rank | Country | Miss Universe | 1st Runner-up | 2nd Runner-up | 3rd Runner-up | 4th Runner-up | Semifinalists | Total |
| --- | --- | --- | --- | --- | --- | --- | --- | --- |
| 1 | USA | 8 | 8 | 6 | 1 | 5 | 29 | 57 |
| 2 | Venezuela | 7 | 6 | 6 | 4 | 2 | 14 | 39 |
| 3 | Puerto Rico | 5 | 1 | 2 | 1 | 3 | 8 | 20 |
| 4 | Sweden | 3 | 1 | 2 | 3 | 4 | 16 | 29 |
| 5 | Brazil | 2 | 5 | 1 | 2 | 5 | 17 | 32 |
| 6 | Finland | 2 | 3 | 5 | 1 | 1 | 7 | 18 |
| 7 | Philippines | 2 | 2 | 1 | 5 | 3 | 7 | 20 |
| 8 | Australia | 2 | 1 | 3 | 2 | 2 | 6 | 16 |
| 9 | Japan | 2 | 1 | 1 | 2 | 3 | 9 | 18 |
| 10 | India | 2 | 1 | 1 | 1 | 1 | 14 | 20 |
| 11 | Canada | 2 | 1 | 1 | 1 | 0 | 11 | 16 |
| 12 | Mexico | 2 | 0 | 1 | 2 | 2 | 10 | 17 |
| 13 | Trinidad & Tobago | 2 | 0 | 1 | 0 | 1 | 4 | 8 |
| 14 | Thailand | 2 | 0 | 1 | 0 | 0 | 4 | 7 |
| 15 | Colombia | 1 | 4 | 2 | 3 | 1 | 19 | 30 |
7 winners have been crowned Miss Universe on their home turf. In particular, 6 of the 8 American winners won the title in the US (where the contest was founded):
____________________________________________________
____________________________________________________
First Filipina to represent the country in the Miss Universe Beauty Pageant in 1963
Miss Universe 1963 - 3rd Runner Up
Lalaine Betea Bennett, the fresh doll faced Miss Philippines of 1963 won the hearts of the Filipino people when she made them experience the first taste of success in an international pageant with her 3rd Runner-up finish at the Miss Universe Contest. She made her mark in the pageant when she delivered her speech in her native tongue instead of in English.
1963 — Miss Philippines Lalaine Betia Bennett, a 19 year-old, 5'9" tall American mestiza from Bayombong, Nueva Viscaya, left Manila on June 29, 1963 for Tokyo and stayed there for a week to fulfill some engagements before proceeding to Honolulu and San Francisco. She was among the first 13 official delegates to arrive in Miami Beach, Florida. Lalaine, who measured an impressive 35-23-36, placed third runner-up to Ieda Maria Vargas of Brazil. She married her official escort in the pageant, Felix Skievasky, a US Naval Officer of Polish-Filipino descent, on Sept. 7, 1964 at the San Marcelino Church in Manila. Felix died in a plane crash in 1973.
Ms. Bennett also tried acting, her first movie was in 1962, via
Ligaw na Daigdig
opposite Ronald Remy and Willie Sotelo.This was before her successful foray in the Miss Universe pageant in 1963. She made two more,
Dear Eddie
(1963) and
Lalaine, Mahal Kita
(1964) pairing her with Mario Montenegro. Her acting career was cut short in 1964 when she got married.
"Lalaine Mahal Kita" (1964)
MISS UNIVERSE TITLE HOLDERS
FROM THE PHILIPPINES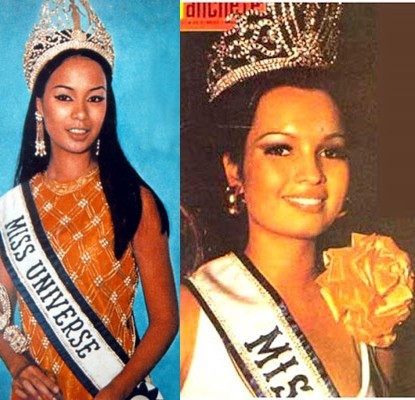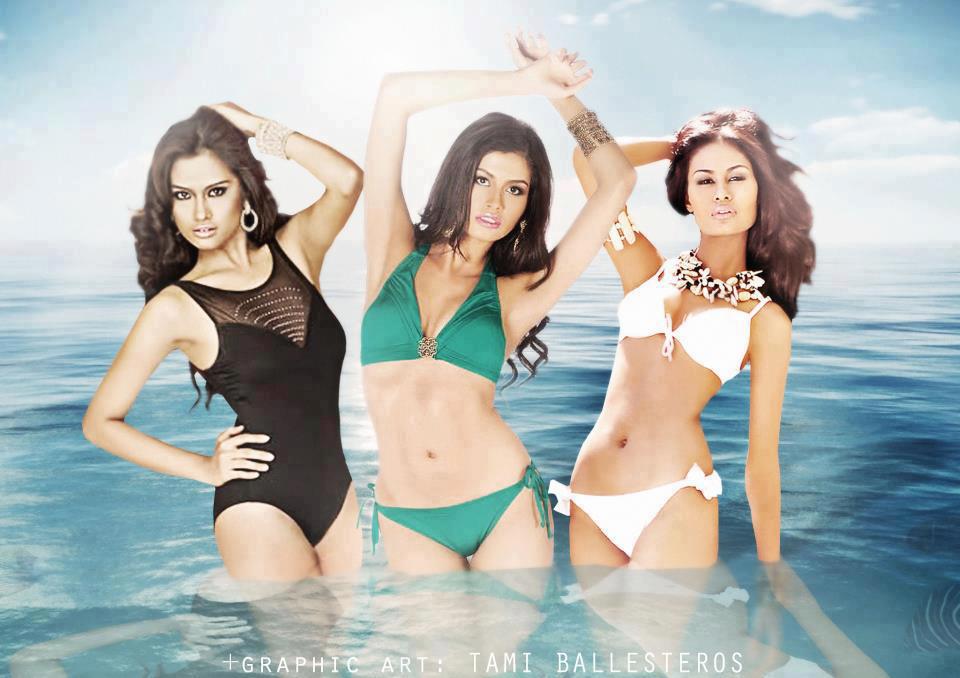 GLORIA DIAZ, MISS UNIVERSE 1969
The Philippines
Díaz was approached by an individual who believed she would do well in the Miss Universe competition and groomed the young woman. Díaz was only 18 when she became Miss Universe 1969 after besting other candidates on the final question. It was about how to welcome the first men that had just landed on the moon --
Neil Armstrong
,
Edwin Aldrin
and
Michael Collins
—as soon as they were back on the planet. She was crowned at the International American-owned pageant in
Miami Beach
,
Florida
,
U.S.
after their footage was set on the
Statue of Liberty
in
New York
.
At present, she still being invited to Beauty Pageant Galas as an honorary guest and presentor. And continues her career as an award winning actress.
First Top 15 Finalists
Swimsuit
Evening Gown
Question & Answer Portion
The crowning of Miss Universe 1969
________________________________________________


MARGARITA "MARGIE" MORAN, MISS UNIVERSE 1973
The full-time college student at Maryknoll College (now Miriam College) and part-time Auggie Cordero model is the granddaughter of former Philippine President,
Manuel Roxas
.
PAGEANT ACHIEVEMENTS:
1973 Binibining Pilipinas Universe (Miss Philippines Universe)
1973 Miss Universe - Photogenic
Two years after her reign, she married and managed to finish her Business Administration degree in Boston University and took her masters in University of London.
Hosted "Margie on Mindanao" on TV and produced a multi-awarded movie, Bagong Buwan (New Moon).
Moran is also notable for her social and civic works especially for promoting peace and livelihood as part of the Mindanao Commission on Women Organization and recently as an ambassador-trustee of
Habitat for Humanity Philippines
.
Her passion and experience as a dancer at the age of 18, prompt her to promote arts and culture with Southern Philippines Foundation for the Arts, Culture and Ecology.
She is now busy running the over-all operations of
Ballet Philippines
.
Moran is 21 years old when she married congressman Antonio R. Floirendo, Jr. of Davao City but after 30 years of marriage, they are now living separate lives. They have 2 daughters, Monica Danielle and Gabrielle Antoinette.
She is currently a multi-awarded peace advocate for her efforts in
Mindanao
and currently the President of
Ballet Philippines
.
Top 5 Finalists
Question and Answer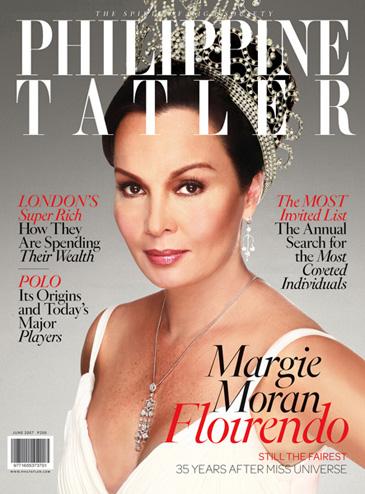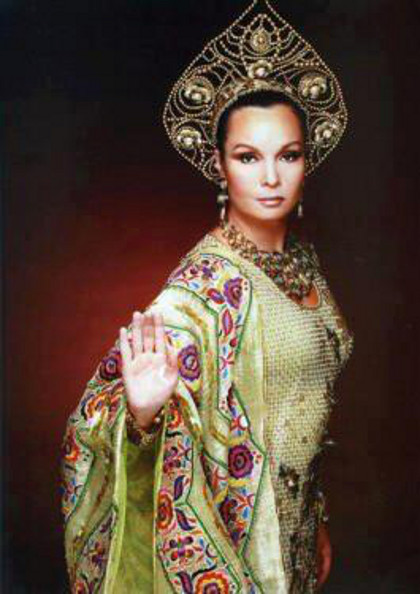 ____________________________________________


MIRIAM QUIAMBAO, MISS UNIVERSE FIRST RUNNER UP 1999
PAGEANT ACHIEVEMENTS:
1999 Binibining Pilipinas - First Runner Up (and Miss Philippines -World) and to compete in the Miss World 1999.
She received several awards, including Miss Photogenic.
1999 Binibining Pilipinas - Universe (due to the dethronement of the Titleholder of Miss Philippines Universe). Due to this, her competing for the Miss World was passed on to the second runner up.
1999 Miss Universe - First Runner Up
Quiambao was one of the strongest and most visible contenders for the crown. She consistently placed second during the pageant's
preliminaries
and bested a composite score of 9.52, just trailing behind the score of Sonia Raciti, the
South African
candidate.
At the
semifinals
, she once again placed second overall in the
swimsuit
and
evening gown
competitions, racking up scores as high as 9.32 and 9.42 respectively.
Early at the competition she received the
Clairol
Herbal Essences
Style Award, the only Asian candidate at the pageant to do so.
Quiambao faltered during the final question, which tackled the debate of whether a Miss Universe should continue her reign even if she gets pregnant. Spain's Diana Nogueira placed as 2nd Runner-Up. It all came down to
Philippines
' Quiambao and
Botswana
's
Mpule Kwelagobe
, and in the end, Quiambao placed as 1st Runner-Up, with Kwelagobe winning the
Miss Universe
title.
"STAND UP EACH TIME YOU FALL" LEARNING EXPERIENCE
During the preliminary round of the evening gown competition, Quiambao slipped and fell on stage. As she walked, the heel of one of her shoes got caught in the trail of her evening gown and she slipped on the floor. Despite this incident she collected herself, regained composure, walked graciously, finished her walk, and drew applause from the audience. At the finals, Quiambao referred to the incident during an interview portion. She said "she felt she represented those women who have fallen both on and off the stage" and hopes to be "an example to the rest of the women in the world".
Most Outstanding Bicolana Award, Ibalong 1999

Most Outstanding Alumna Award, UST 1999

Millennium Men and Women Award, Evian 1999

Clairol Herbal Essences Award, Miss Universe Pageant 1999

First Runner-Up, Miss Universe 1999

Bb. Pilipinas-Universe 1999
___________________________________________________________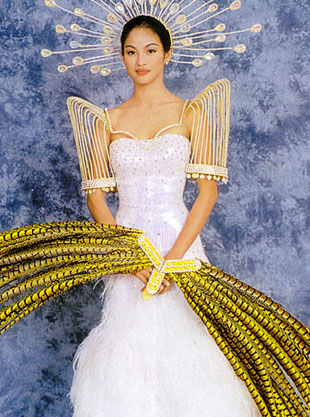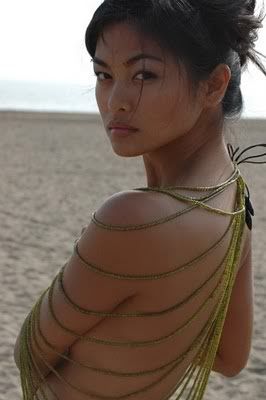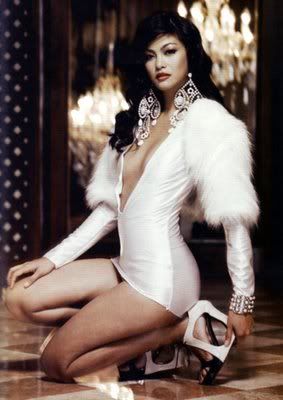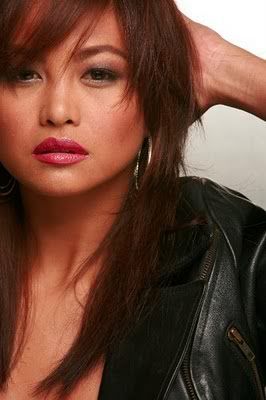 _______________________________________________
VENUS RAJ, MISS UNIVERSE, FOURTH RUNNER UP 2010
"The Filipina Barbie Doll"
Maria Venus Raj was born to an Indian father and a Filipino mother, the youngest of five children.
For the first two decades of her life, Raj lived in a
nipa hut
made of wood,
bamboo
and
anahaw
leaves, with no electricity, in the middle of a sprawling rice field. She allegedly used rice paddy dikes for her early training, where she eventually developed her distinctive walk.
She graduated through the scholarship that she received from the Francis Papica Foundation.
She initially worked as an Information Assistant for the
Department of Environment and Natural Resources
for Region V.
It was at this time that she also worked as a part-time fashion model in both her native Bicol and Manila.
PAGEANT ACHIEVEMENTS:
2010 Miss Universe - 4th Runner Up
During the Miss Universe question and answer portion, Raj was asked by American actor
William Baldwin
about the biggest mistake that she made in her life and what she did to make it right, to which she simply replied that she had never made any big mistakes in her life.
Raj received the highest rating in the Miss Universe website, with 3.54 points, the highest-ever for a Philippine delegate.
Venus is currently taking up her Masters in Community Development at the University of the Philippines Diliman and lends a hand to the group called "Care For Children."
She is well-known as a Filipino beauty queen, TV personality, model, and actress.
______________________________________________________________


SHAMSEY SUPSUP, MISS UNIVERSE THIRD RUNNER UP 2011
The Philippines
Supsup moved with her family to
General Santos City
when she was three years old, where she was raised primarily by her father while her mother worked overseas. Before studying in
Manila
, she helped her father on a farm.
She came first in the Philippines' national examination for architects in June 2011.
For the question-and-answer portion, judge
Vivica Fox
asked her, "
Would you change your religious beliefs to marry the person you love?
"
Her response was : "I would not change my religion because I love my God who created me, a
nd
if that person truly loves me, [he] should love my God too.
"
PAGEANT ACHIEVEMENTS:
2011 Miss Universe-Philippines
2011 Miss Universe - 3rd Runner Up
Supsup has also served as a host for the
ANC
lifestyle program CityScape.
She will soon tie the knot with Chinese-Filipino handsome businessman, Lloyd Lee, on December 2013.
___________________________________________________


JANINE TUGONON, MISS UNIVERSE FIRST RUNNER UP 2012

The Philippines
Tugonon also attended the
Ballet School of Manila
as a ballet protégé while attending university.
PAGEANT ACHIEVEMENTS:
2010 Miss Pharmacy
2010 Miss Thomasian Personality at the University of Santo Tomas, her alma mater.
2011 Miss Universe Philippines - First Runner UP
2012 Miss Universe Philippines
2012 Miss Universe - First Runner Up
She was asked this question via Twitter and read by judge Nigel Barker: "As an international ambassador, do you believe that speaking English should be a prerequisite to being Miss Universe? Why or why not?"
She replied: "For me, I think being Miss Universe is not just about knowing how to speak a specific language – it is being able to influence and inspire others. So whatever language you have, as long your heart is to serve and you have a strong mind to show to people, then, you can be Miss Universe".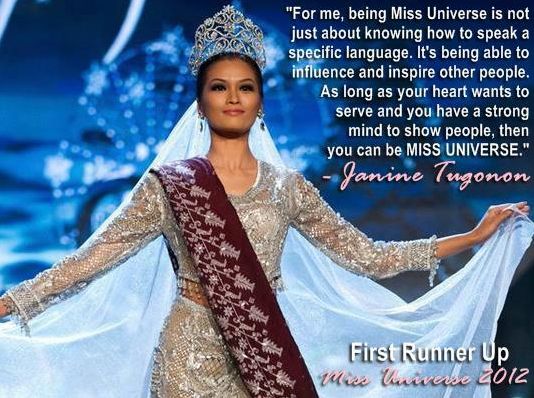 _______________________________________________________


ARIELLA ARIDA, MISS UNIVERSE THIRD RUNNER UP 2013
The Philippines
During the Miss Philippines competition, Judge, Philippine National Police chief, Director General Alan Purisima was the one who questioned her. Her answer is this:
"One lesson in life that we, women, can teach men is being sensitive. Because we all know that men are more logical when it comes to decision. They usually are more rational, straight forward. Unlike we, women, we use our heart and we tend to get emotional in some of our decisions. For me, sensitivity is something that we can teach men."
The only Asian among Spanish speaking representatives.
Ara was one of the Top 5 Finalists and the only Asian candidate to compete with the other four Spanish-speaking candidates. (The Philippines was under the Spanish influence for more than 300 years during the 15th - 18th century.)
Her crowning glory that matched her beautiful face that caught the million viewers' attention is her long shiny, smooth, straight hair which has become the envy of many as she strutted onstage wearing swimsuit & elegant yellow evening gown.
During the much-awaited final round at the Miss Universe 2013, Ara was the only one who answered in English and sans the use of an interpreter. Her question from judge Tara Lipinski's was: "What can be done about the lack of jobs for young people starting their careers around the world?"
Her response was: "For the people who have lack of jobs, I do believe that we people should invest in education and that is my primary advocacy, because we all know that if everyone of us is educated and well aware of what we are doing, we could land into jobs and we could land a good career in the future. Education is the primary source and ticket to a better future."
2012 Miss Earth - Philippines
2013 Miss Philippines - Universe
2013 Miss Universe - 3rd Runner Up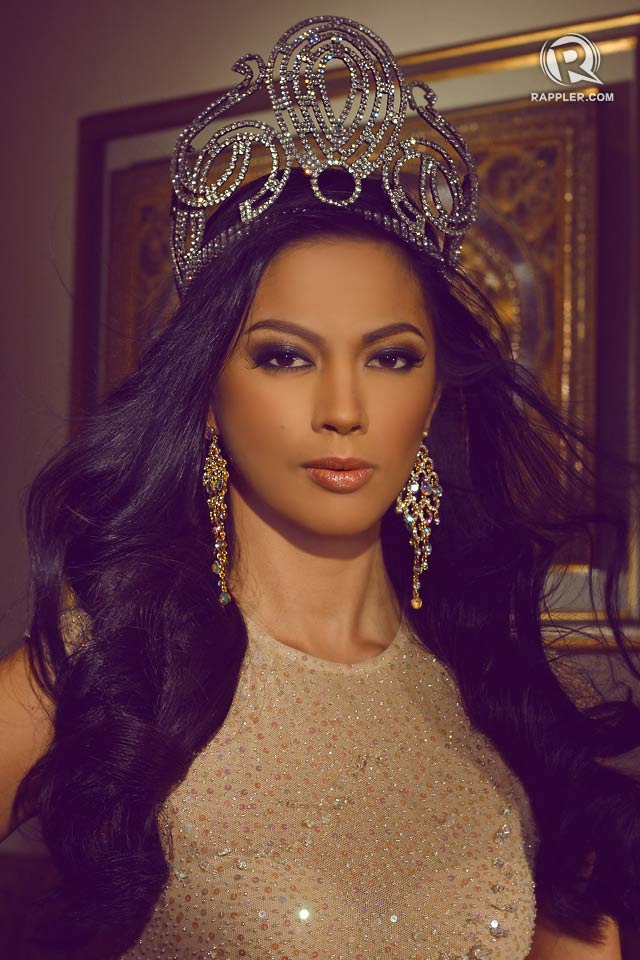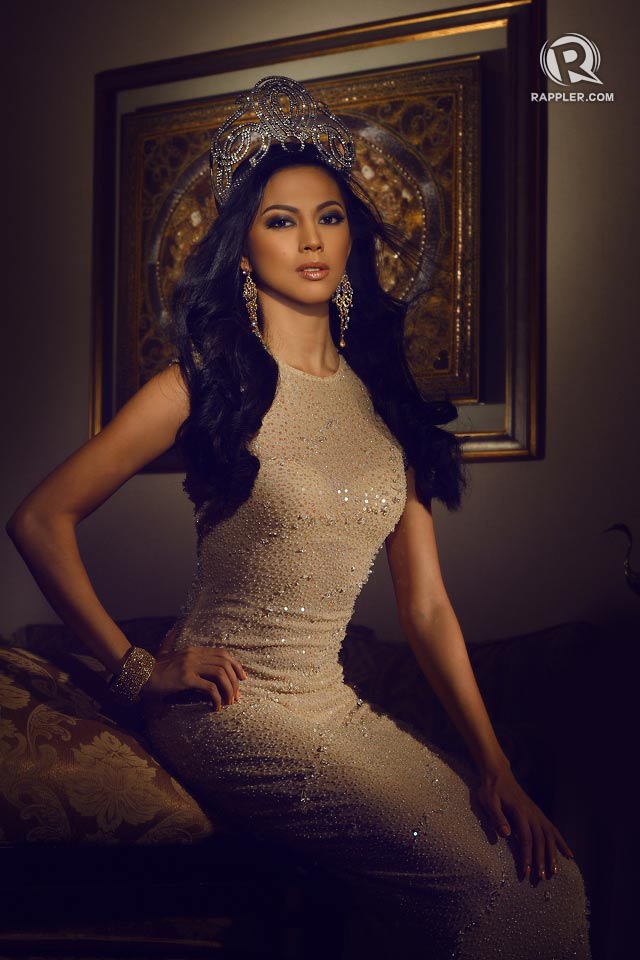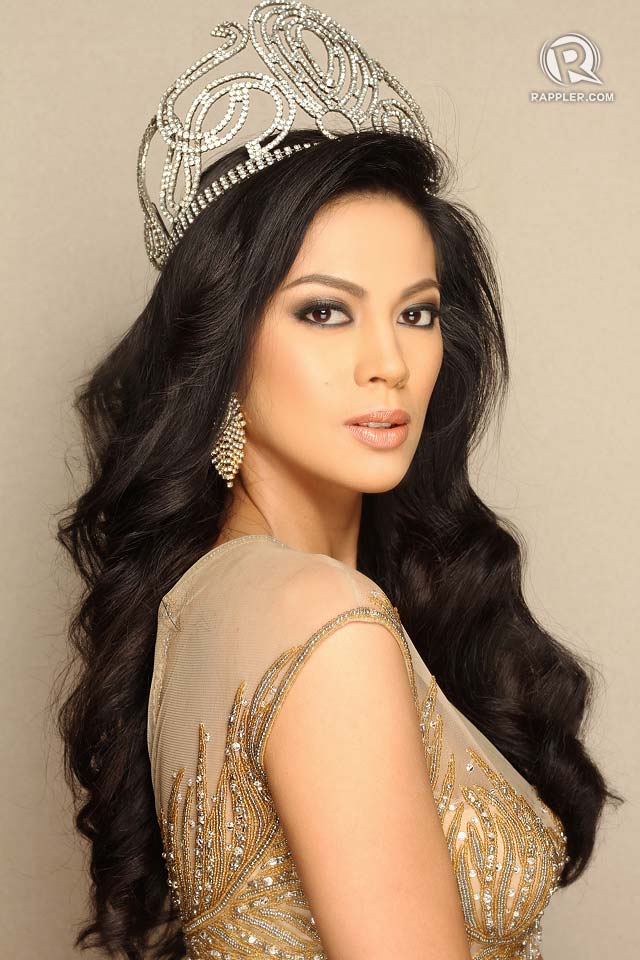 BINIBINING PILIPINAS - UNIVERSE PHOTOS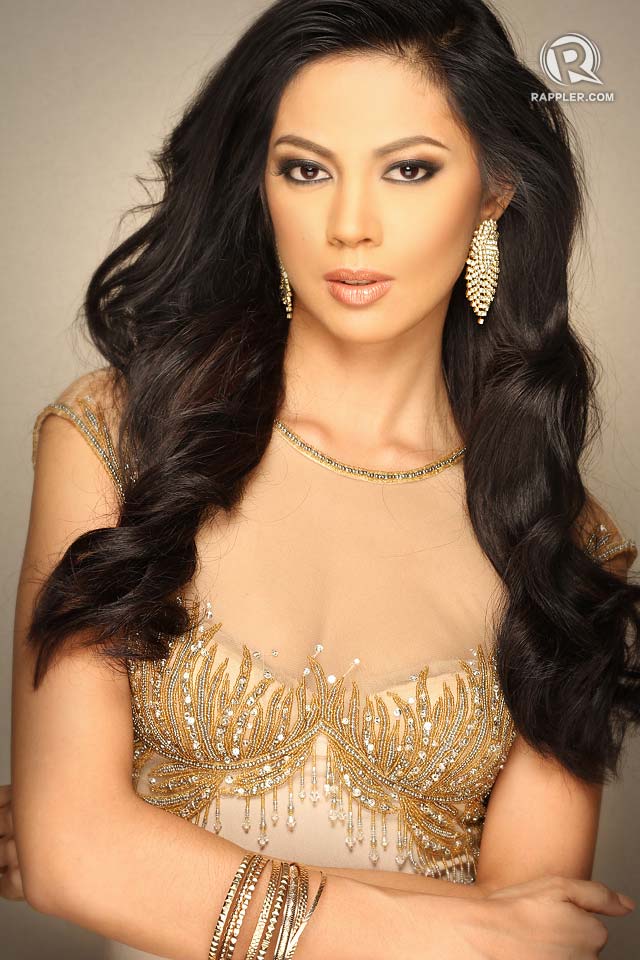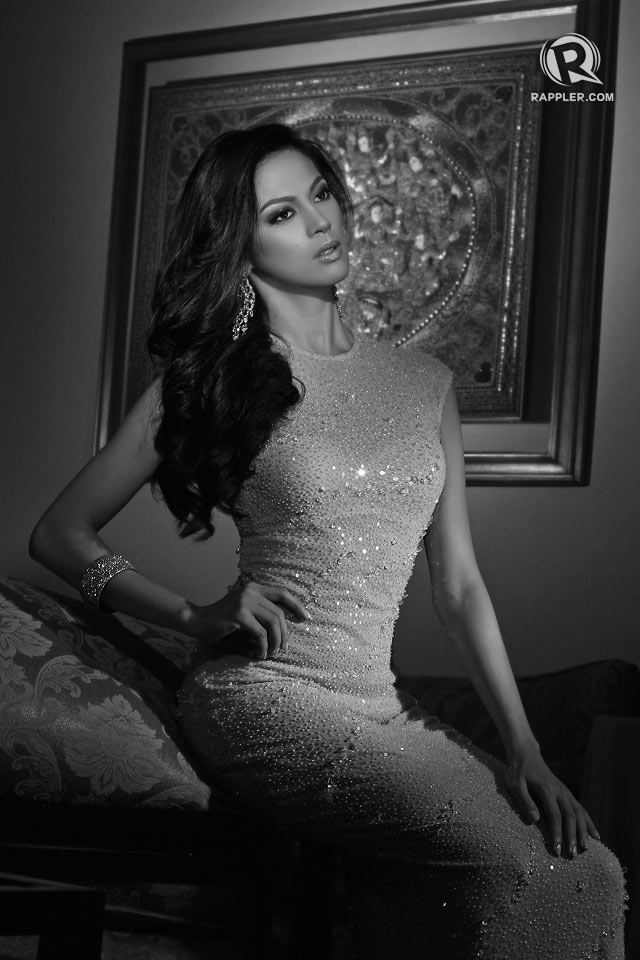 ________________________________________________________________
MISS UNIVERSE CANDIDATES' NATIONAL COSTUME 2013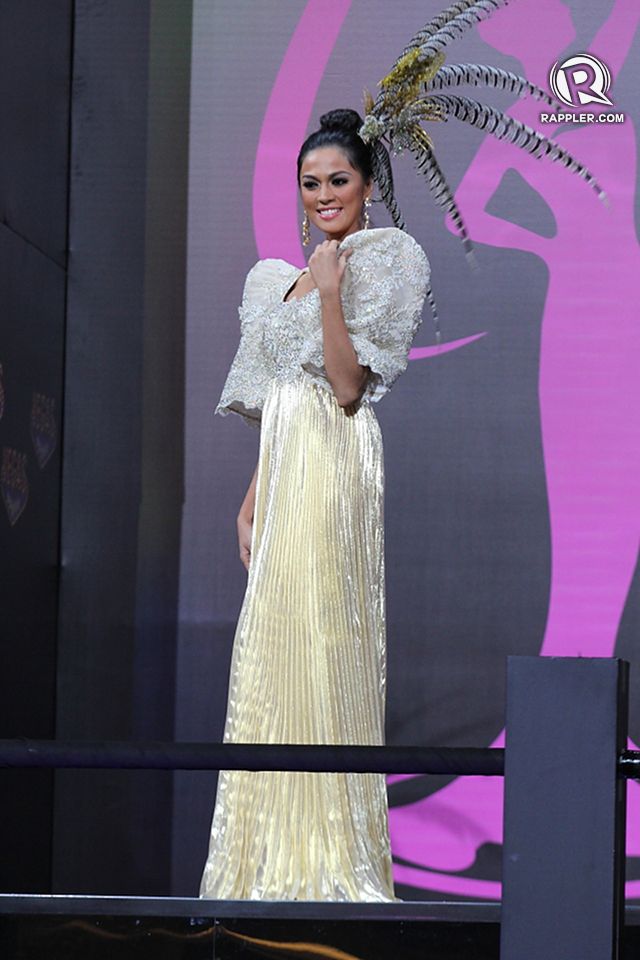 SHE GLOWS. Miss Universe-Philippines Ariella Arida at the National Costume competition on November 3, 9pm at Vegas Mall in Moscow. She wears a terno designed by Alfredo Barraza.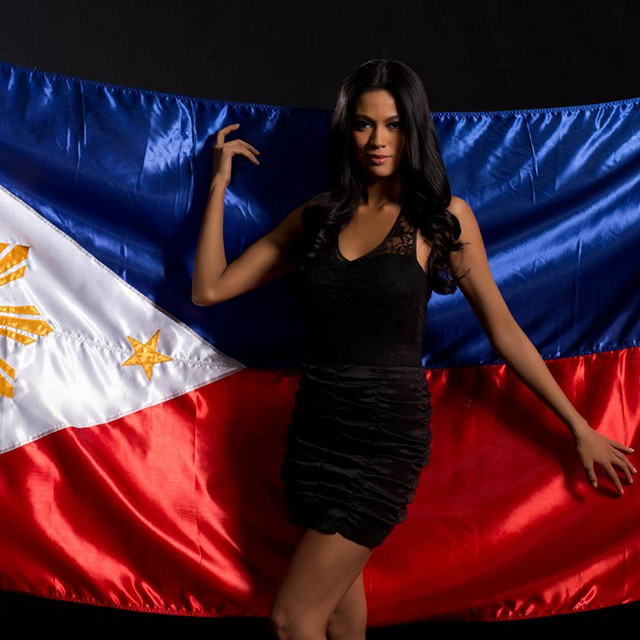 MISS UNIVERSE CANDIDATE OFFICIAL PHOTO LOOK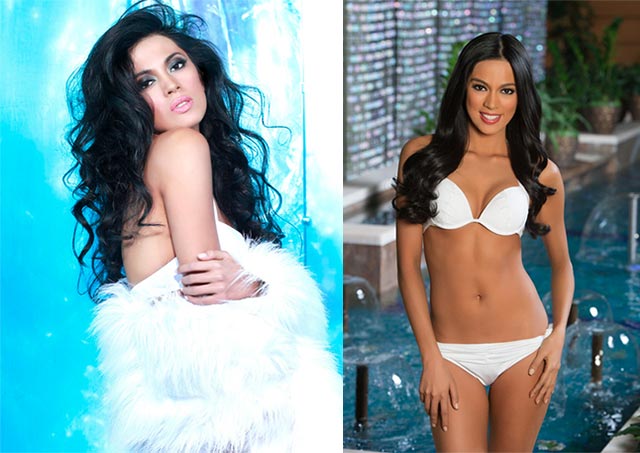 GLAM LOOK & SWIMWEAR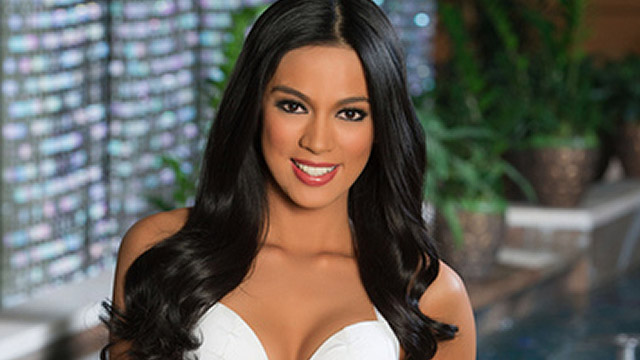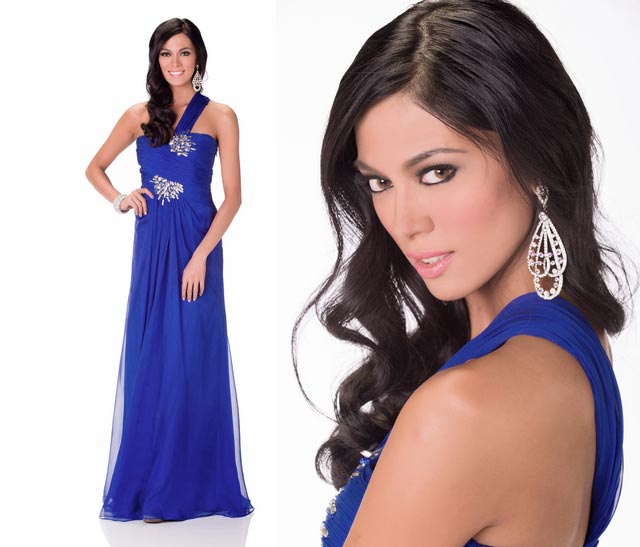 OFFICIAL EVENING GOWN PHOTO AND HEAD SHOT. Photos courtesy of the Miss Universe Organization LP, LLLP
MISS UNIVERSE PRELIMINARY COMPETITION
NATIONAL COSTUME
SWIMWEAR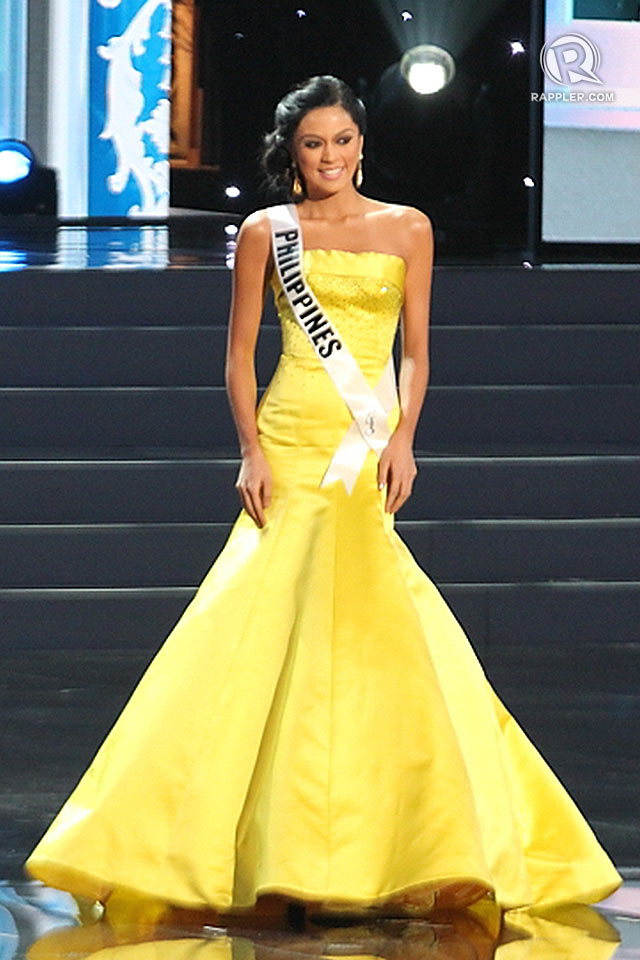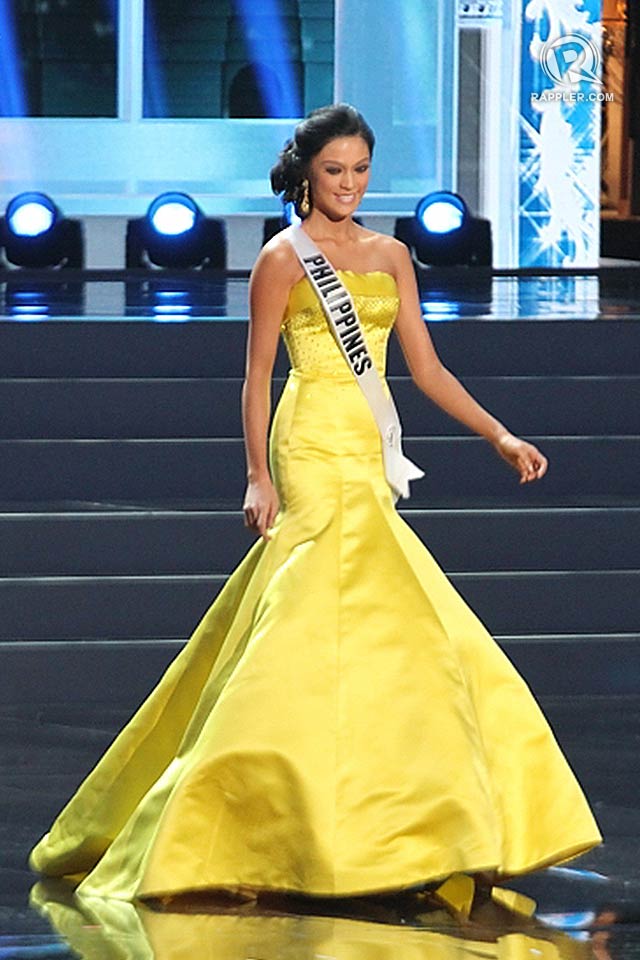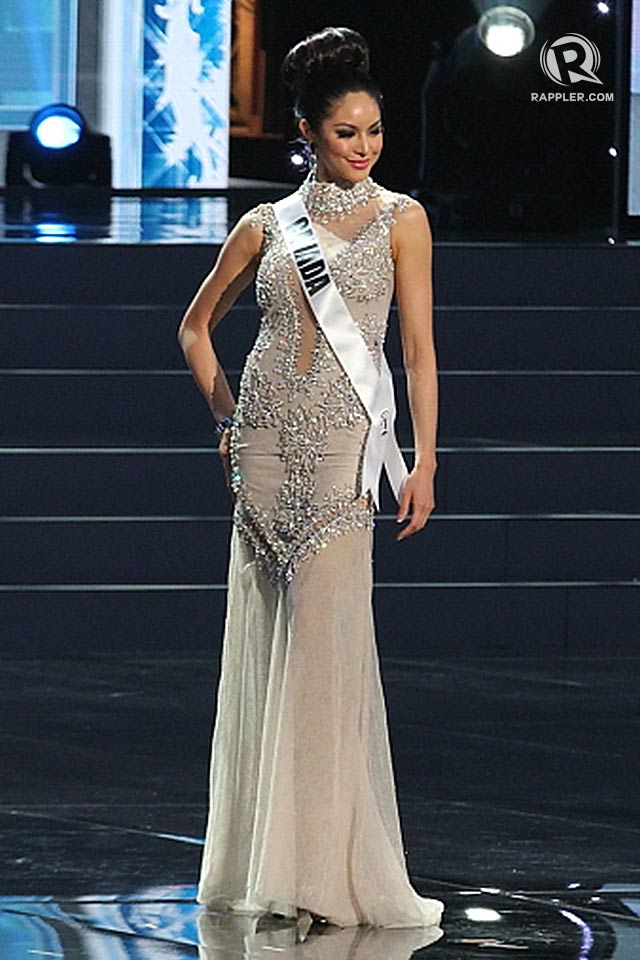 Miss Canada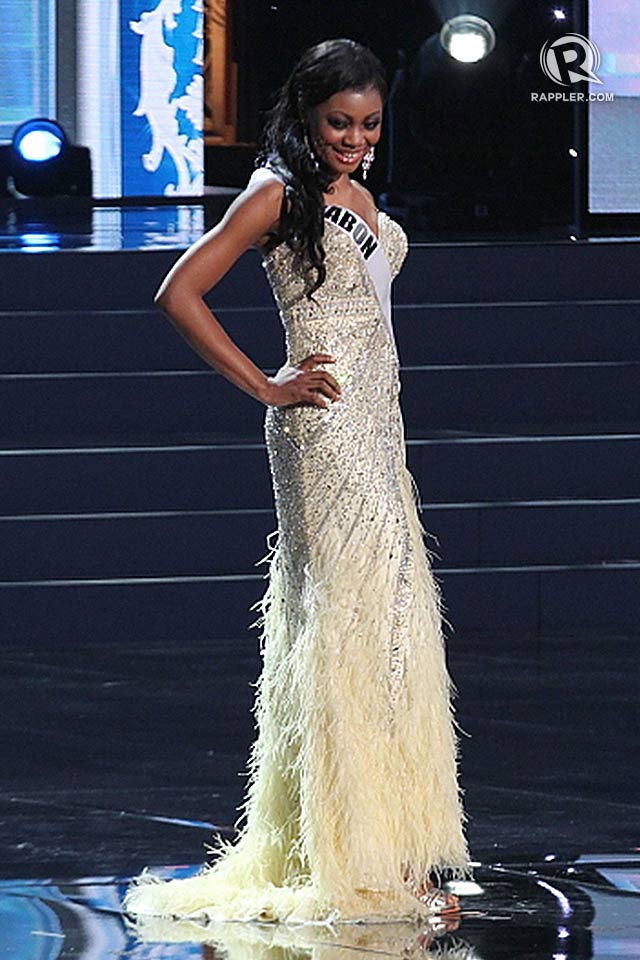 Miss Gabon
POISED DURING ACTIVITIES
Miss Universe - Philippines (3rd from Left) , With Miss Universe - Miss Gabon (First from the Left - Half Filipino)
Miss Universe - Canada (Full Filipino, raised in Canada)
MERCEDES BENZ FASHION WEEK
Miss Universe-Philippines
Miss Universe- Canada
_______________________________________________________
MISS UNIVERSE CANDIDATES WITH FILIPINO
HERITAGE


RIZA SANTOS, MISS CANADA UNIVERSE 2013
In the Philippines, during her participation with Pinoy Big Brother: Celebrity Edition 2, she played for Bantay Bata, ABS-CBN Foundation's charitable institution. On Day 84, she was proclaimed the second place winner of the show. In 2008 and 2009, she hosted the Asian Poker Tour.
She also landed at number 18 in the FHM's 100 Sexiest Women in 2008.
Santos' parents are from Bataan and Bulacan in the Philippines but she was raised in Canada. She is of Filipino ancestry. She studied Biological Science at the University of Calgary. Her grandparents influenced her in pursuing a career in the military in which she completed training with the Canadian military forces and became a news reporter for the Army News. Due to this, she left her acting career in the Philippines and returned to Canada in 2009. She is currently studying engineering at the University of Calgary's Schulich School of Engineering, and is "working as an engineering student" at the Provident Energy Ltd. in Environment Health and Safety.
Riza appeared in several TV series and movies in the Philippines.
Ms. Earth 2006
Pinoy Big Brother Contestant (PBB)
Ruth Jennifer Ondo Mouchita
(born 1992) is a
Gabonese
beauty pageant
titleholder who was crowned Miss Gabon 2013 and the representative of
Gabon
in
Miss Universe 2013
.
She is the second Gabonese Beauty Queen who is of mixed race with Filipino and Gabonese Ancestry. The first one being
Channa Divouvi
who represented Gabon in
Miss Universe 2012
pageant. Ruth is fluent in
English
,
French
,
Tagalog
(or Filipino)
and
Fang