METEOR GARDEN & TAIWANESE F4 : HOW THEY STRUCK MY HEART IN 2001.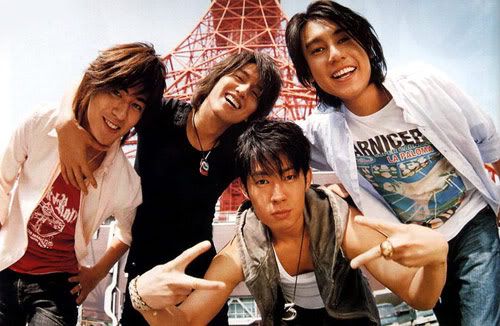 The story centers around a poor teenage girl named Shan Cai (
Barbie Hsu
), who at the insistence of her parents goes to a university for rich people. The university is dominated by Dao Ming Si (
Jerry Yan
), Hua Ze Lei (
Vic Zhou
), Mei Zuo (
Vanness Wu
) and Xi Men (
Ken Chu
), four rich and handsome but arrogant students collectively known as 'F4', short for 'Flower 4'. They are heirs to four rich and influential families in Taiwan. They terrorize the school by handing out red cards to those they do not like, which allows other students to bully the victims until they leave the school.
After one of Shan Cai's friends receives the wrath of F4's leader, Dao Ming Si, and receives a red card, Shan Cai stands up to Dao Ming Si and slaps him, which in turn results in a red card of her own. However, Shan Cai's persistence in standing up for what is right gradually gains F4's respect and Dao Ming Si falls in love with her.
Major Characters
| Drama character | Actor | Manga character | Characteristics |
| --- | --- | --- | --- |
| Shan Cai (董杉菜) | Barbie Hsu | Makino Tsukushi | She is a hardworking, tough girl who always defends the weak. She thinks herself as a 'weed' of her school. She first likes Hua Ze Lei, but then starts to have feelings for Dao Ming Su. As her life gets tougher, she just keeps enduring, earning the respect of all the F4 boys and soon becomes good friends with them. |
| Dao Ming Si (道明寺) | Jerry Yan | Tsukasa Doumyouji | He is stubborn, hot-headed leader of F4, and distrustful of everyone but his three childhood friends. He thinks money can solve anything. He is at first is angry at Shan Cai for her defiance but, over time, he comes to love her. |
| Hua Ze Lei (花澤類) | Vic Chou | Rui Hanazawa | He is a soft-spoken and kind boy whose opinion Dao Ming Si relies on. His friendship with Dao Ming Si almost ends over Shan Cai. He loves his childhood friend, Jing. He becomes Shan Cai's protector and close friend, and later falls in love with her. At the end he goes back to Paris with Jing. |
| Xi Men (西門) | Ken Chu | Soujiro Nishikado | He is a fun-loving playboy of F4 that only date girls no longer than a week and close to Zuoling. He is nice to Shan Cai. Xiaoyou is attracted to him. |
| Mei Zuo (美作) | Vanness Wu | Akira Mimasaka | He is the other playboy who is very loyal to his group of friends. He is also nice to Shan Cai. |
Minor characters
Drama character

Actor

Manga character

Characteristics

Shan Cai's mother




(杉菜母)

Wang Yue (王月)

Keiko Makino

While a loving mother, is desperate to get Shancai married to a rich man. She is the one who uses some contacts she has to get Shancai into the F4's school.

Shan Cai's father




(杉菜父)

Dong Zhicheng (董至成)

Haruo Makino

He is always sneaking food and seems to have no luck with his job which he later loses. He seems to always cause the family financial problems.

Xiao You (小優)

Rainie Yang

Yuki Matsuoka

She is Shancai's best friend and has romantic feelings towards Xi Men.

Teng Tang Jing




(藤堂靜)

Winnie Qian




(錢韋杉)

Shizuka Todou

She is very close to Lei. While he loves her, she seems to see him as a younger brother most of the time. At the end she persuades Lei to go back to Paris with her, which he did.

Li zhen (李真)

Ye An Tin




(葉安婷)

Sakurako Sanjou

She at first seems to be Shancai's only friend at school, but later betrays her.

Chen Qing He




(陳青和)

Edward Ou

Kazuya Aoike

He is a childhood school friend of Shancai whose father gains a sudden fortune and joins her school. He is also in love with Shancai but is willing to stay her friend only.

Dao Ming Zhuang




(道明莊)

Mary Hsu




(徐華鳳)

Tsubaki Domyouji

She is Dao Ming Si's older sister. She is very violent and always seems to hit Dao Ming Si.

Daoming Feng




(道明楓)

Zhen Xiu (甄秀珍)

Kaede Domyouji

She is Dao Ming Si's controlling mother. She is very strict and everything mostly goes her way. She uses many different cruel ways to get Shan Cai away from Dao Ming Si.

He Yuan Zi (何原滋)

Ke Huan Ru




(柯奐如)

Shigeru Ookawahara

She is a strong-willed girl who is engaged to Si by their parents to merge companies. She asks to be Shancai's friend and Shancai cannot say no as she likes Xiaozi despite being engaged to Si. Xiaozi does all she can to get Si to love her, but gives up when she knows that Si will always love Shancai and starts to help them be together.

Bai He (百合)

Zheng Mei Dai

Qian Hui (千惠)

Zhang Ruo Zhen
______________________________________________________________________
______________________________________________________________________
While being engrossed with a new trend in Philippine teledrama that catapulted in 2000, an interesting foreign series had invaded the Filipinos' tv screens.
I admit that I could not possibly like any Chinese stories because of the way they were made. When I was still in my elementary days, there was this Chinese series that I had been following because not of the story, but because of the male leads. I cannot remember the title of that story at all, but only one or 2 scenes that my mind could recall. The story was in a period setting, which, at that time, Chinese movies were prominent for.
In 2001, so I had been hearing about this new chinese tv series that had invaded the Philippines and was shown on primetime daily. I never dared to watch because I was not interested. One day, I was at a computer shop, working on my resume. The young owners of the shop, with some of her girl-friends were using each a computer. Each of them were searching for photos of these characters in that tv series. I tried to take a glimpse because I was curious why they were so infatuated by the characters.
All I could see were small, chinky eyed guys showing on the screen. I just smiled and went back to what I was doing.
I got home around the same time that the infamous tv series was to be shown. I turned the tv on and relaxed on the couch. Then there it goes, the Taiwanese Drama. The episode that I first took a glimpse was the one where they had a school trip, in a luxury cruise ship ( I supposed). I just followed the story, and slowly I kind of liked the dialogue (though it was dubbed in "filipino language") and found some interesting scenes, too, such as Dao Ming Zi and Shan Tsai's reactions toward each other whenever they would meet and were together. My mother, who was also interested in Pangako Sa Yo tv drama that was aired after TV Patrol (the number 1 Filipino news program of ABS-CBN), watched the Taiwanese series with me, too. Knowing that my Mom would not like watching tv shows that are not really interesting. But she, too, was smitten by the story.
Surprisingly, it left a smile on my face after the episode had ended that day. Looking forward to watch it again the following day. Until I came to like the story, and luckily, was able to watch the first few episodes in the rewind that was shown every Saturday.
My sister was not that enthusiastic as well with the series. She only became curious of it when her officemates were always talking about the Taiwanese drama. She was able to watch the episodes every Saturday, too.
This Meteor Garden Taiwanese version is more into romantic-comedy-drama. With open issues about family and partner relationships, friendship, sex, torrid kissings, french kisses, passionate kisses, etc. But what I like most about the story is the thrilling (Filipino : Kilig) effect of Dao Ming Sz and Chan Sai's feelings toward each other (especially in episodes 7,8,9, 10, until the episode 19). This time, I could feel how Dao Ming Szi really loved and respected Shan Cai, while Shan Cai was starting to develop a feeling for A-Szi but would not want to admit it because she would not want him nor anybody to have the impression that she was taking advantage of the situation, or maybe she just did not know she was already in love with him eversince he started treating him nicely, besides being aware that they both have a large gap in terms of personal and financial status. I have watched all Meteor Garden episodes again after twelve (12) years and I admit, I still feel like I am a teenager again.
If a story like this has something to do with attracting so many viewership, it was effective and it is really phenomenal! It is unexplainable! I must say, I do not regret watching this at all, no matter how many times, not only because of Jerry Yan a.k.a Dao Ming Zsi, but also because of the feel good story that I came to like. METEOR GARDEN shows a true love story, despite its imperfections in some ways. It is the kind of story that I would like to be into, and escape from reality.
BOYS OVER FLOWERS : No. 2
But I do like the storyline of each version. Boys Over Flowers (BOF) shows more of the comedy/funny scenes that only Lee Min Ho could pull off. Since I am discussing the comedy scenes, for MG 1, it gave Jerry Yan the opportunity to strike a balance between acting his part naturally and making his and his friends' funny sides come out. I especially like his natural acting ability, including the last part (episode 19) where he and Shan Cai were only allowed to talk to each other with a door in between them. You could really see real tears and real acting that he showed.
I so love the part when his fiancee visited him at Ying De and Dao Ming Szi, being ever so childish, did not care who he was dealing with, would really attempt to knock the girl off with his wrist or kick her if not for his friends' abrupt reaction and held their leader's arms and body while pulling him away from the girl.
________________________________________________________________________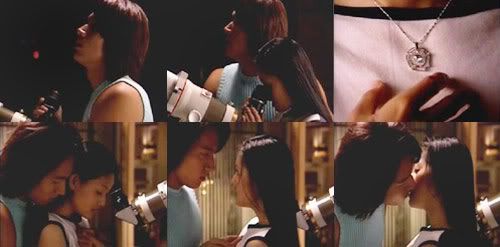 This is the romantic scene I was talking about! My gosh, could there be any other love story that matches this episode right here? THIS IS THE ORIGINAL!
And that KISS! I would have wanted to be in Shan Cai's place, my goodness!! Those passionate kisses this man pays her gives me the chills, the thrills, and the dreaminess of all romantic moments I have ever seen!
Searching for the Meteor Necklace
Is there any other Asian couple who could be as sweet as these two lovebirds? The reel feeling of being so much in love with each other seemed real as you will become envious of the kind of love this man gives and shows to his girl. So, was there a reason for me not to cry after seeing that MG 2 trailer that Dao Ming Szi must have died in a car accident just because he was so carelessly happy to check on the ring that he was planning to give to his love of his life in a chapel where they were supposed to meet?? It would have been toooooo romantic if he had not had an accident!! DARN!!
I CRIED JUST BY WATCHING THE MG 2 TRAILER. HOW MUCH MORE SEEING THE ENTIRE MG 2 STORYLINE! IT REALLY CRUSHED MY HEART.
I cried here. The love story was really great!
METEOR GARDEN 2 TRAILER :
Broken Vow
I'm only showing a few episodes of this drama MG 2. I still feel that you watch the entire series. Those who are not familiar with the TV Series, start watching Meteor Garden 1 and follow it up with Meteor Garden 2.
By watching the first few episodes of MG 2 here, it really made me teary eyed. Sorry, I am being emotional.
METEOR GARDEN 1 & 2, YOU ARE THE BEST ASIAN NOVELA SERIES EVER!!!
(Watch Korean Novela "My Girl". I also cried when both lead characters were forced to separate by the male lead's Grandfather. You can really feel how much both was feeling for each other in the story. And Taiwan's Absolute Boyfriend- it's killing me because I did not cry when I know I should have. That really hurts!)
________________________________________________________________________
I will never forget and regret liking the story and up until now be smitten by it. I have collected articles, pictures, and printed the entire episodes script from the computer during those happy moments. Everything for the sake of my crush Jerry Yan and for the sake of happiness that Meteor Garden had brought to me. As of 2013, since I have a complete collection of the original VCDs of the series, I started watching it again to reminisce the good ol' feeling. It still works!
_________________________________________________________________
I started watching my collection of VCDs of F4: from their Meteor Garden 1 & 2 series to F4 Fantasy Concert in Hong Kong and Taiwan, I also have a VCD of their songs and MV. Not to mention all their articles in any magazine that were out in the market everyday. Every page you will find their pictures and interviews and updates under the sun.
I thought of posting their F4 Fantasy in Hong Kong here. And also their concerts held in The Philippines. They will forever be known as the F4 group, though they have each their own separate activities, they remain to be the Number 1 F4 group worldwide.
I just hope that they will accept good projects with very good story lines so that they can will become marketable again worldwide.
Remembering those old times... it makes me cry sometimes.
METEOR GARDEN THEME SONG - sung by Harlem Yu
CAN'T HELP FALLING IN LOVE WITH YOU (MANDARIN)
CANT' LOSE YOU - MV
ASK FOR MORE - MV
LYRICS:
Jue Bu Neng Shi Qi Ni (Can't lost you)
Mei You Ni Wo Hui Shi Shui …Xin Ting Zai Na Li Dou Bu Dui
Na Jin Tian Ca Diao Zuo Tian Kong Bai Yi Pian

Zaizai :
Na Yi Tian Zai Na Yi Tian …Ke Yi Ji Xu Wei Wan Qing Jie
Zai Zhe Jiao Cha Dian Shui Pei Zai Ni Shen Bian

Ken :
Jiu Suan Quan Shi Jie Dou Yao Ba Ni Fou Ding
Ye Bu Neng Rang Wo Fang Qi Ni

Van ness :
Jiu Suan Wo Men De Guo Qu Dou Mei You Le Zhen Ming

F4 :
Wo Yi Rang Shou Hu Ni

Oh Baby Baby Baby
My Baby Baby
Wo Jue Bu Neng Shi Qu Ni
Ni Shou Xin Ni Sheng Ying
Hai Zhan Lin Wo De Xin Zen Neng Wang Ji
Xiang Ni Jiu Xiang Shi Hu Xi

Oh Baby Baby …My Baby Baby
Wo Jue Bu Neng Shi Qu Ni
Bu Guan Ni… Zai Na Li
Wo Yi Ding… Hui Zhao Dao Ni

Jerry :
Mei Yi Tian Mei You Yi Tian
You Liu Xing Yu Zheng Zai Shi Yan

Zaizai :
Ni Jiang Hui Fa Xian Yong Yuan Bing Bu Yao Yuan

Van ness :
Jiu Suan Quan Shi Jie Dou You Ba Ni Fou Ding
Ye Bu neng Rang Wo Fang Qi Ni

F4 :
Jiu Suan Wo Men De Guo Qu Dou Mei You Le Zhen Ming
Wo Yi Rang Shou Hu Ni

Oh Baby Baby Baby …My Baby Baby
Wo Jue Bu Neng Shi Qu Ni
Ni Shou Xin… Ni Sheng Ying
Hai Zhan Lin Wo De Xin Zen Neng Wang Ji
Xiang Ni Jiu Xiang Shi Hu Xi
Oh Baby Baby …My Baby Baby
Wo Jue Bu Neng Shi Qu Ni
Bu Guan Ni… Zai Na Li …Wo Yi Ding Hui Zhao Dao Ni
Oh Baby Baby Baby …My Baby Baby
Wo Jue Bu Neng Shi Qu Ni

Ni Shou Xin Ni Sheng Ying
Hai Zhan Lin Wo De Xin Zen Neng Wang Ji
Xiang Ni Jiu Xiang Shi Hu Xi

Oh Baby Baby …My Baby Baby
Wo Jue Bu Neng Shi Qu Ni
Bu Guan Ni… Zai Na Li …Wo Yi Ding Hui Zhao Dao Ni
Bu Guan Ni Zai Na Li

Ken :
Wo Yi Ding Hui Zhao Dao Ni
-----------------------------------------
Yan Huo De Ji Jie (Season of Fireworks)
Artist : F4 (Album Fantasy Forever)
Ken:
Ni wei xiao de yan wo kan dao wu shu qing tian
Wen ni de lian de na yi tian yong you quan shi jie

Vanness:
Wei lai shi yi ge yuan quan zai ni wo wu ming zhi jian
Wei wo men nuo yan lai jia mian wan mei de ju dian

Jerry:
Yao bai ni yong jing wo wai tao de li mian wei ni dang feng xue

Zaizai:
Rang ni kao zai wo de jian fen xiang mei yi ge ming tian

F4:
Qian ni de shou qu gan jue yan huo zui mi ren de ji jie
Zhao liang xing fu de shun jian hao rang wo men kan de gan yuan
Qian ni de shou qu gan jue yan huo zui mi ren de ji jie
Dian liang sheng ming de yi qie zhang fang wo men de xi yue
Zai ai ni de mei yi tian

Jerry:
Zhen cang de hua mian quan dou shi ni de qing jie
Jerry & Ken:
Si nian ting ge zai ni de lian wen nuan bu hui qie

Zaizai:
Wei lai shi yi ge yuan quan zai ni wo wu ming zhi jian
Zaizai & Van ness:
Wei wo men de nuo yan lai jia mian wan mei de ju dian

Jerry:
Yao ba ni yong jing wo wai tao de li mian
Jerry & Ken:
Wei ni dang feng xue
Van ness:
Rang ni kao zai wo de jian fen xiang mei yi ge ming tian
F4:
Qian ni de shou qu gan jue yan huo zui mi ren de ji jie
Zhao liang xing fu de shun jian hao rang wo men kan de gan yuan
Qian ni de shou qu gan jue yan huo zui mi ren de ji jie
dian liang sheng ming de yi qie zhan fang wo men de xi yue
Zai ai ni de mei yi tian
Ken:
Guo qu xian zai huo wei lai ye qi dai jiang ni de ai xia zai
Van ness:
yong yuan bu geng gai you xin xin zhe yang ai ..wo no..
F4:
Qian ni de shou qu gan jue yan huo zui mi ren de ji jie
zhao liang xing fu de shun jian hao rang wo men kan de geng yuan
Qian ni de shou qu gan jue yan huo zui mi ren de ji jie
Dian liang sheng ming de yi qie zhan fang wo men de xi yue
Zai ai ni de mei yi tian
oh..oh..yeah
______________________________________________________________
F4 FANTASY GRAND CONCERT IN HONG KONG
__________________________________________________________________
__________________________________________________________________
F4 IN THE PHILIPPINES IN 2004

_______________________________________________________________________________
THE F4 IN 2009
____________________________________________________________
REHEARSAL:
F4 - Meteor Garden Original Male Cast in a 2013 Reunion in China Spring Festival TV program
_____________________________________________________________
Vivi Xu dies from stomach cancer
The actress portrayed Jerry Yan's sister in Taiwanese idol drama 'Meteor Garden' 10 years ago.
Actress Vivi Xu, who portrayed Dao Ming Si (played by actor Jerry Yan)'s elder sister in the Taiwanese adaptation of drama Meteor Garden, passed away at 9am on Dec 6, at the age of 41.
In 2008, Vivi -- who had been suffering from stomach ulcer for a long time -- was diagnosed with third stage stomach cancer. The actress underwent an operation to remove the growth and managed to contain her illness.
Although she was still suffering from the effects of the cancer after the procedure, the actress lived a positive life. She even became the ambassador of cancer awareness and participated in various charitable works.
Unfortunately, Vivi's condition worsened on Dec 1, and her cancer cells had already spread to most of her organs.
The actress passed away on Dec 6, at 9am.
Vivi's husband Tang Wei Shi remained by her side until her passing.
The couple was very close. Vivi's husband supported her throughout her illness.
Wei Shi was married when they met. They were in relationship for five years before the couple finally tied the knot in 2009.
Wei Shi and Vivi had planned to have two children initially. However, after the actress's health deteriorated last year, the pair was unable to fulfill their dream of having children.